Not to be Reproduced, 1937 by Rene Magritte - Analysis and Interpretation
Not to be reproduced - Rene Magritte. Canvas, oil. 81.3 x 65 cm
The painting title "Not to be reproduced" was written by Rene Magritte for his friend, Edward James, who was a poet and philanthropist. On the canvas, he is shown standing in front of a mirror, which, in violation of all the laws of physics, does not reproduce his reflection. The original title of this work contains a play on words, offering two ways of reading: "reproduction is prohibited" and "prohibited reproduction", that is, impossible one.
In this picture, Magritte applied a complex principle, by creating an unusual interaction between the image and different text forms, presented at different levels. At each of the levels, the reproduction process is opposed to its impossibility.
One can observe the most obvious opposition right at the center of the painting: the mirror, supposed to be reflecting a person's face, does not do that. This literally deciphers both titles of the picture. The mirror reflection is falls under the prohibition of reproduction ("reproduction prohibited") and at the same time, it is impossible within the frame of our world ("prohibited reproduction").
You can trace this idea within the work itself, where it is represented by a specific object – a novel "The Tale of the Adventures of Arthur Gordon Pym" by Edgar Poe, which lies on the Edward's right hand. To do that, you will need to delve deep into the history of this painting and find out that the author renounced it and was not willing to distribute this book, imposing a ban on its reproduction. Thus, the very presence of this book on the painting could be interpreted as a "forbidden reproduction", confirming the title of the painting once again.
The second level of interpretation of the subject painting does not possess a visual concept in it, but it means the objectivity of any object capable of being reproduced an infinite number of times. The book, the reproduction of which was prohibited by the author, is, nevertheless, already produced stuff. This is the reason for declaring the impossibility of banning the reproduction.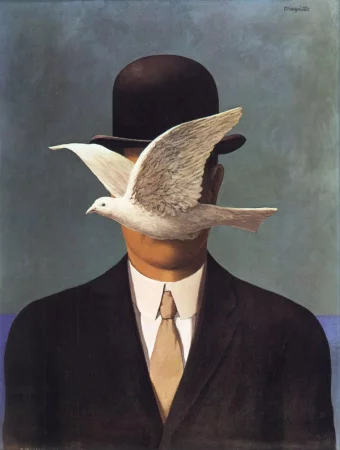 The man in the bowler hat, Rene Magritte
The man in the bowler hat - Rene Magritte. Canvas, oil. 70 x 50 cm...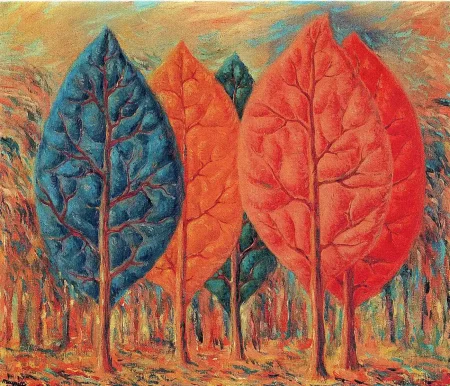 Flame, Rene Magritte
Flame - Rene Magritte. Paper, gouache. 54 x 65 cm...