Painting The Great War, Rene Magritte - Meaning and Analysis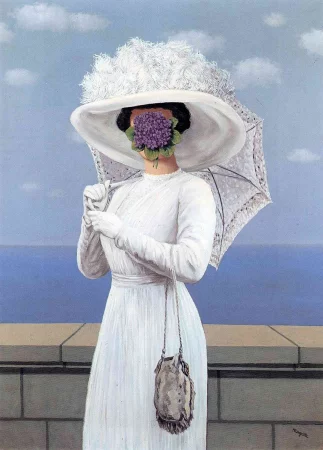 The Great War - Rene Magritte. Canvas, oil. 81 x 60 cm
The picture titled the "Great War" was created by René Magritte in 1964 as a part of his cycle of paintings, united by the topic of the hidden and the visible; the subject cycle includes
"The Son of Man"
and
"The Man in the Bowler Hat"
, as well.
These works provide for a variety of different interpretations, which are based both on what is depicted, and on the titles. The master used to declare that in these paintings, the presence of the obvious and the hidden visible, inseparable in the natural environment, is very important; one visible hide another behind itself, and this is perfectly demonstrated on the pictures.
Pictured
The subject painting shows an elegant lady wearing an elegant white dress and standing on the seafront just against the backdrop of the ocean. The lady's face is covered by a bouquet of violets.
She holds a summer umbrella in her palms, protecting her from the sun rays, and she has a small handbag hung on her arm. The lady's outfit is depicted in detail, so that the viewer can see the folds of the dress, the feathers on the hat and the even review the jewelry on her handbag.
The canvas itself is arranged in into three horizontal stripes: the lower one is the brown-gray wall of the embankment, with the lady's handbag shown on the same level, just above the blue sea, limited by the horizon line; above it, a light blue sky with some light clouds on it is there to occupy the biggest of the stripes.
Interpretations of the picture
It is widely believed that the title of this painting is a reference to the tragic events of the last century because
Magritte managed to survive two world wars
. The great painter showed that while the appearance of war can seem beautiful, being woven from false hopes and promises, its face hides something different, namely the violence and ruined destinies of human beings.
The white dress of the woman symbolizes her eternal status of bride, and her fiancé died in the war. The master did not attempt to complicate very the meaning of his work with too many details, and leaved only the essential symbolic reminder of what war leads to.
That is why it is of no coincidence that the flowers covering her s face are violets,
as their name in French (violette) is so consonant with the word violence (violence)
.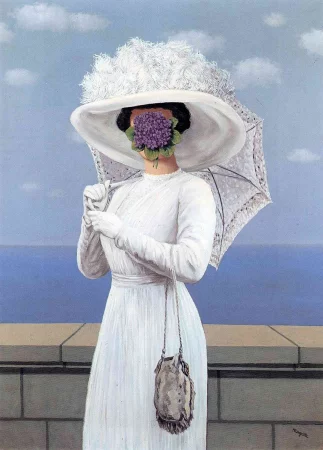 Painting The Great War, Rene Magritte - Meaning and Analysis
The Great War - Rene Magritte. Canvas, oil. 81 x 60 cm...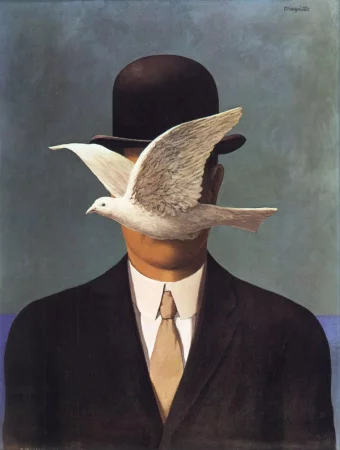 The man in the bowler hat, Rene Magritte
The man in the bowler hat - Rene Magritte. Canvas, oil. 70 x 50 cm...