Heavenly Love and Earthly Love, Titian Vecellio, 1514

Heavenly Love and Earthly Love - Titian Vecellio. Canvas, oil. 118 x 279 cm
The present picture serves as a greatest example of the classical Venetian school of painting. The subject work was painted at the order of the nobleman Nicolo Aurelio, to be a wedding gift to his bride.
It is interesting that the title of this painting has never been established. Nowadays, it is referred to as "Heavenly Love and Earthly Love" after many discussions of recognized experts.
The ideological content remains controversial, as well. Talking of the composition, the painting consists of two halves, each of them depicting young girls; on the left side there is an exquisite lady wearing a luxurious silk robe, while the right side shows a naked maiden painted in the form of Venus, the goddess of love.
Maybe, this was the way for the future husband to show the power of his love. And a sincere feeling can lift their hearts from a routine earthly family life to heaven, bringing them closer to the world of the gods. The bowl of fire held by a naked girl is a symbol of unquenchable love.
A marble well is depicted right in the middle of the painting, and there is a sarcophagus laid at its base. This unusual image connects the past with the future. The topic of the murder on the sarcophagus is there to remind on the tough destiny of the wife's ancestors. But the water down in the well is as clear as a tear, representing the faith in the bright and pure future of this newly established young family. Cupid playing with the water drops serves as the image of a baby and symbolizes the continuation of the family.
Thus, everyone will find the true meaning for themselves in this plot of the painting, remaining unresolved till now.
Having filled the picture with bright colors, the great painter emphasized its favorable purpose. The colorful sheen of draperies adds some special charm, while the airiness is brought by the perfectly executed background landscape.
Nowadays, there are lots of influential and wealthy people willing to get the present Italian masterpiece into their private collections. However, all such requests are continuously rejected by the Galleria Borghese in Rome, regardless of the amounts offered.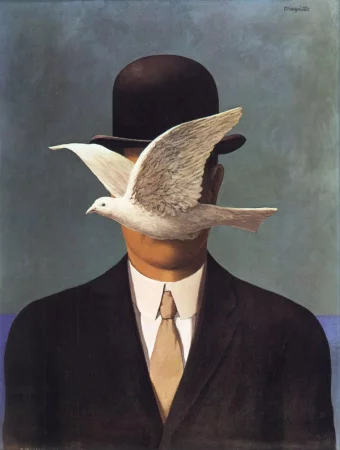 The man in the bowler hat, Rene Magritte
The man in the bowler hat - Rene Magritte. Canvas, oil. 70 x 50 cm...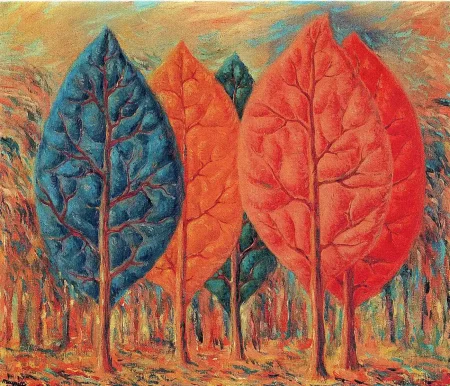 Flame, Rene Magritte
Flame - Rene Magritte. Paper, gouache. 54 x 65 cm...