Flame, Rene Magritte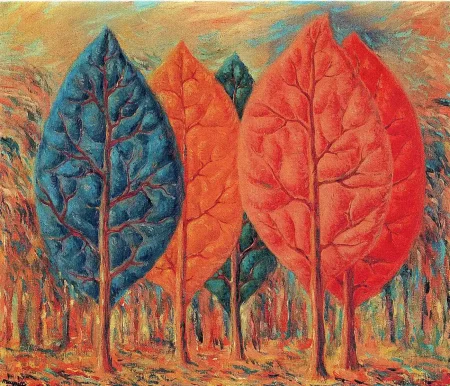 Flame - Rene Magritte. Paper, gouache. 54 x 65 cm
"Flame" is a painting by Rene Magritte, created in 1943, when Belgium was occupied by German troops.
Unlike other painters who left their motherland in difficult times, Magritte stayed. However, he changed his style of work, as the master believed that his creatures should cheer people up. That is why the palette applied in the "Flame" picture is brighter than the one usually used by the artist.
Rene Magritte himself referred to the works of this time as "solar surrealism", but the changes were not met well by the critics.
Story and performance
The "Flame" depicts trees presented in the form of separate leaves with their curves resembling the candles. Although Magritte declared expressing of the cheerful moods and applied bright colors, the trunks and branches of these trees look like the swollen veins full of blood.
The flaming forest surrounds the trees, which seem to have grouped side by side, standing one after another, due to the burning fire, depicted using the large brushstrokes. The strokes gradually flow into the sky, distinguished by the relatively calm tone transition and bright blue color accents.
Despite all efforts by the author and his plans and the title of this picture, Magritte failed to overcome the gloomy realities of that time.
Interesting Facts
The master communicated with Andre Breton on his attempts to find something in the shape of the trees that would belong to it but is not indeed consistent with the human idea. And, when he finally managed to find that form, he said: the tree transformed into a huge leaf, with its stem symbolizing the trunk planted in the ground.


In mid-May 2023, a picture made of flowers and titled the "Flame" appeared on the roof of the energy center in the city of Krasnodar, namely in Galitsky Park. It was made of 160 thousand petunias of eight varieties. This art object immediately gained popularity among the citizens, and its footage were spread across all available social nets.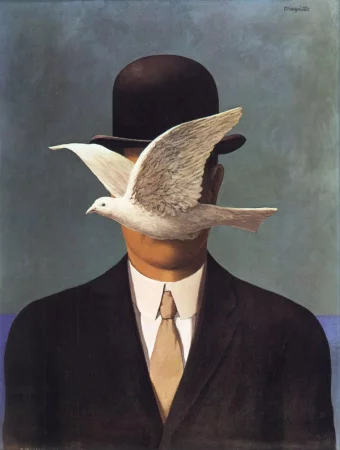 The man in the bowler hat, Rene Magritte
The man in the bowler hat - Rene Magritte. Canvas, oil. 70 x 50 cm...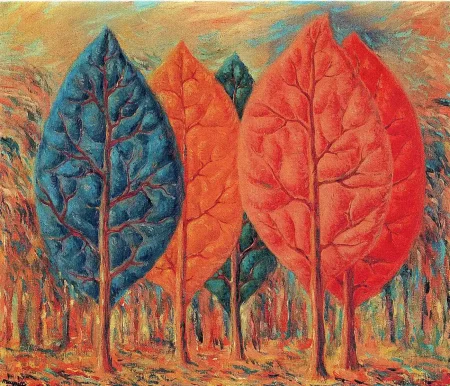 Flame, Rene Magritte
Flame - Rene Magritte. Paper, gouache. 54 x 65 cm...