Famous paintings by the French artists
This painting perfectly conveys the very spirit of the tragic consequences of the duels of the nineteenth century. It was long, long time back when this cardinal way to resolve the dispute appeared; note that it was still actively used by the third class representatives of France in the nineteenth...
"The Cock Fight" or "Young Greeks Attending a Cock Fight" was created by Jean-Leon Gerome at the age of twenty-three....
The notional center of the painting is the just finished battle of the gladiators. The author brought to the fore the final of the subject combat....
The French painter and sculptor Jean-Leon Gerome preferred to work in an academic style. The main themes of his paintings were the life and being of antiquity and the East. His "Slave Market" painting was devoted to the theme of the slave trade in the Ottoman Empire....
Jerome began to write "The Christian Martyr's Last Prayer" at the order of the American collector William Walters back in 1863. Walters was the one to determine the composition of the painting and clearly distribute all of its components....
In 1875, the picture titled "Pool in the Harem" was ordered by the Russian Emperor Alexander III, who was known as a true connoisseur of painting and also as a collector of various artworks, to Gerome....
It was more than two thousand years separating Jean-Leon Gerome from ancient Greece, but he kept returning to the subject topic again and again throughout his entire life. The painting titled "Phryne before the Areopagus" was created back in 1861....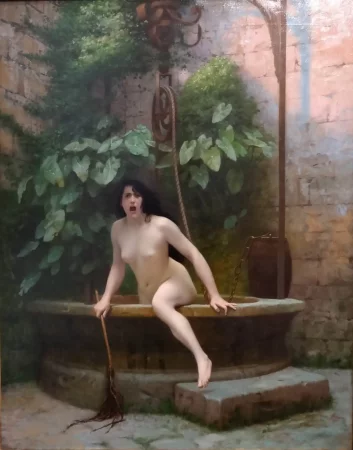 When inventing the plots for his future paintings, Jean Gerome used to turn to historical motifs starting from ancient times and up to the present. He learned to manipulate the plots, making them leave a lasting impression on the audience....