The wild Hunt of Odin by Peter Nicolai Arbo
The Wild Hunt of Odin - Arbo Peter Nicolai
Peter Nikolai Arbo, a world-famous Norwegian artist, was born on June 18, 1831, in the family of the folk school director in the city of Drammen, whose name was Arbo Christian.
Having graduated from the most respected and influential in Europe of those times, the Düsseldorf Academy of Arts, Peter Nicolai continued to live and work in Paris for the next eight years: however, in 1871 he returned to his native Norway and in 1872 created the main work of his life, "The Wild Hunt of Odin", which is currently kept at the National Gallery of Art, Architecture and Design in the city of Oslo.
Arbo did show interest in history, particularly in the legends of Scandinavian mythology. The picture of hunting was most probably inspired by the poems of the romantic poet of the early XIX century Johan Sebastian Belhaven, who used to be the "singer" of the transiency and fragility of human life.
As per the Scandinavian and German myths, in autumn, just before the onset of winter, there is a wild hunt coming from the north to take people to hell and bringing death and mischief. The subject retinue is traditionally led by the Wild or Black hunter, namely the man Wotan and woman Holda in Germany, and the god Odin in Norway.
The legend says that one can die or get torn to pieces by dogs or disappear without a trace.
At the first glance at this painting, the viewer will feel alertness and anxiety arising. With the sun hiding behind black clouds, and the cry of a bird ceasing, even the wind subsides, and the barren land is silent ... What could that be? It is just impossible to tear the eyes away from the terrible, black cavalcade of hunters appearing from the darkness.
And everything around changes so quickly and terribly: rushing ghostly, circling crows, snoring horses, screeching, and howling, as well as the wild passion in dead eyes, and the desire to catch their victim. The god Odin is leading this wild hunt as the embodiment of dark forces.
By applying the light, the artist masterfully conveyed such feelings as danger (using the lunar, cold light at the bottom of the painting) and triumph (a yellow-orange glimpse in its upper corner).
Arbo's creativity found its response in the modern world. It is a known fact, that in 1988 the image of " The Wild Hunt of Odin " adorned the album of the band from Sweden "Bathory".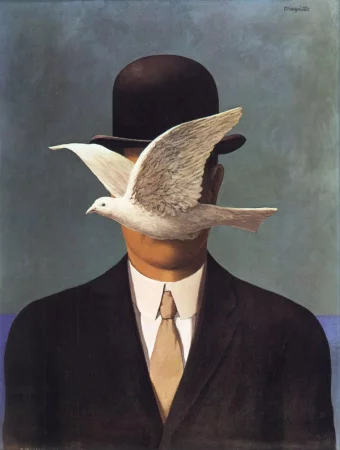 The man in the bowler hat, Rene Magritte
The man in the bowler hat - Rene Magritte. Canvas, oil. 70 x 50 cm...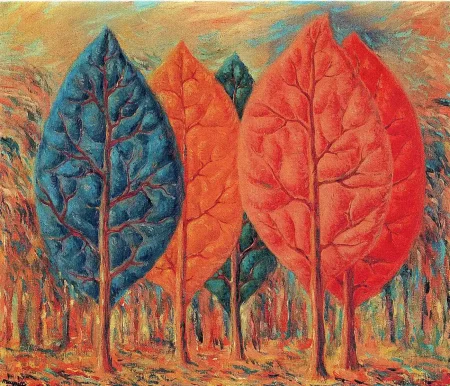 Flame, Rene Magritte
Flame - Rene Magritte. Paper, gouache. 54 x 65 cm...