Night, Frits Thaulow
Night - Frits Thaulow. 1880s Canvas, oil. 60 x 81 cm
This beautiful picture by the world-famous Norwegian impressionist painter Frits Thaulow is a special one for the Russian culture. The reason for this is that the love for European pictorial art of the well-known collector Mikhail Abramovich Morozov, who previously used to purchase only works by Russian artists, commenced with this one. The "Night" hooked the patron and subsequently became one of the first works acquired by him in Europe. Today it is exhibited in the Hermitage collection.
But why did Morozov's choose it? In fact, there was the real heyday of impressionism at that time and the French artists were deservedly considered leaders in this style. When looking at this painting and analyzing it, one gets to the understanding that Taulow had some inherent sort of impressionism, featuring a national flavor, and a personal contribution.
Here, the master does not deviate from the realistic image; however, he managed to enrich it using the light and natural effects, focusing on the flickering of the night sky, mirror-like puddles and light reflections from the windows in them, and a road broken by the numerous sledges and wagons. It is only Thaulow's paintings where dirty water from melted snow can get such a poetic reading!
Quite an inconspicuous place with no luxurious buildings and famous showplaces is full of charm. Taulow ranked such "chamber" landscapes highest among his works.
The plot of the painting takes us deep inside, to the place from where a lonely sleigh has just left. The horse, with its head hung down, obediently stopped to drop off the passenger. And here we can see the figure of the rider, who is heading for the door, and a warm, attractive light is coming out from them.
And once again Taulow managed to plunge into his favorite leitmotifs, i.e., water and snow. And even though there are only water puddles, and a snow is presented in the melted rut, that does not matter at all. The master poeticizes what is happening and makes everyone feel the beauty even in the most inconspicuous things and places. Therefore, it is not surprising at all, that Benois considered Thaulow second only to Monet.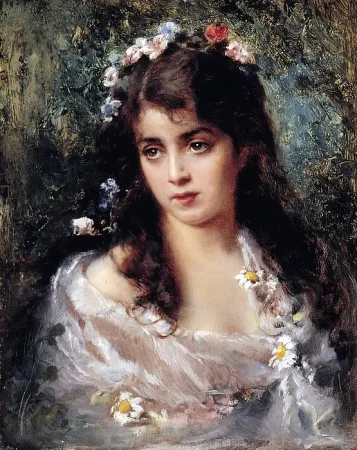 Girl dressed as Flora, Konstantin Makovsky
Girl dressed as Flora – Konstantin Egorovich Makovsky...
The Suppression of the Indian Revolt by the English, Vasily Vereshchagin
The Suppression of the Indian Revolt by the English – Vasily Vereshchagin...