The Demon Seated Painting by Mikhail Vrubel - Description
The Demon Seated - Mikhail Alexandrovich Vrubel. Oil on canvas. 116,5 x 213,8 cm
The great representative of Symbolism and Art Nouveau in Russian fine art, M. A. Vrubel (1856-1910) was a universal artist who created works of easel painting and monumental paintings, a perfect draftsman and sculptor, who worked a lot in the field of decorative and applied arts. The main theme of Vrubel's work in the "Moscow period" was the theme of the Demon.
The background for the painting "The Demon Seated" is the incandescent purple low sky. Behind the Demon, unknown crystal flowers of various dark shades are blooming. The athletic muscles of his naked torso are in tension, and his fingers are locked in a piercing yearning. Black eyebrow lines are ominously raised up and the corners of his mouth are bitterly lowered down on his swarthy face. The combination of the power and impotence of the young giant echoes the shimmering beauty of the dead landscape which surrounds him, and there are only bizarre thorny rocks and stone clouds. The demon, immersed in a yearning for a living world full of flowering and warmth, from which he has been rejected, does not notice how a golden dawn flares up behind him in the distance.
Later, Benoit recalled that Vrubel continued to work on the image of the demon even after his exhibition had opened. He used to say that, under Vrubel's brush, the demon changed its appearance before our eyes, this having given the impression of a real confrontation between the artist-creator and the fallen angel.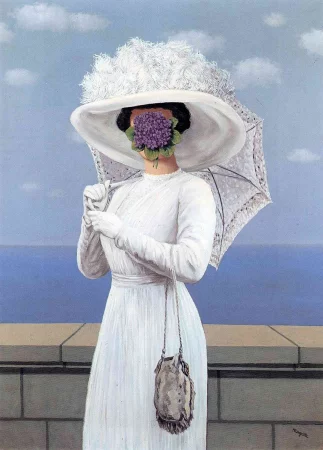 Painting The Great War, Rene Magritte - Meaning and Analysis
The Great War - Rene Magritte. Canvas, oil. 81 x 60 cm...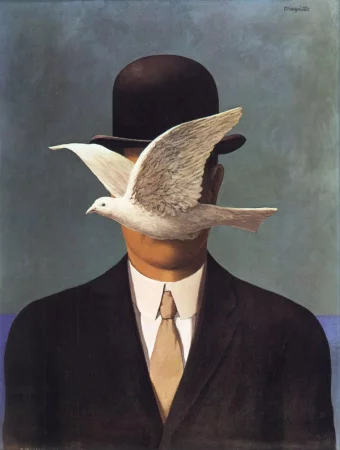 The man in the bowler hat, Rene Magritte
The man in the bowler hat - Rene Magritte. Canvas, oil. 70 x 50 cm...