Alexei Savrasov "The Rooks Have Come Back" - Painting Description
The Rooks Have Come Back - Alexey Kondratyevich Savrasov. 1871. Oil on canvas. 48,5 x 62 cm
The painting "The Rooks Have Come Back" is the most famous work by Savrasov. Immediately after the show, the canvas was purchased by P. Tretyakov for his collection. The plot for the painting was taken by the artist in the ordinary village of Molvitino. At the same time, the painting became the discovery of a new beauty in Russian landscape painting, simple and active. In its very name lies the joyful arrival of spring. In the spring, all nature wakes up from hibernation and comes to life. And it was this time of the year chosen by the artist for his work.
Every centimeter of the painting is felt through by an artist who was in love with the nature of Russia. In the picture, we see that there is still a lot of snow laying around, but this is no longer dense winter snow lying in drifts, but rather loose, dirty, and melting. Looking at the picture, one can literally feel how transparent and fresh the air is, hear how loudly water drips from the roof, how water murmurs in the thawed patches, rooks roar. Every minor detail is clearly noted by the artist and reproduced on canvas, creating this unusually realistic feeling of the coming spring. Birches and rooks are in the foreground of the canvas for a reason. The artist noticed that birds sense the onset of heat much earlier than humans do, therefore the arrival of spring in the picture is real, this is not an accidental winter drops. Owing to the artist's talent, you can feel that the whole landscape is filled with warm spring air, like birds chirping happily and all nature is looking forward to the imminent onset of sunny and warm days.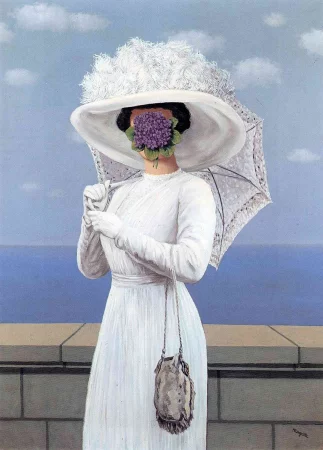 Painting The Great War, Rene Magritte - Meaning and Analysis
The Great War - Rene Magritte. Canvas, oil. 81 x 60 cm...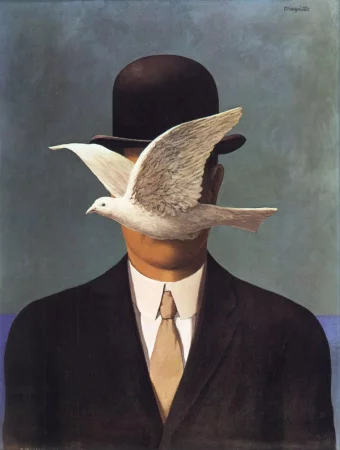 The man in the bowler hat, Rene Magritte
The man in the bowler hat - Rene Magritte. Canvas, oil. 70 x 50 cm...