Painting "The Bay Of Naples" by Ivan Konstantinovich Aivazovsky
After graduating from the St. Petersburg Academy of Arts, Ivan Konstantinovich Aivazovsky left for Italy for an internship. The magnificent nature, the beauty of the coast captivated the painter so much that he will paint Italian landscapes throughout his life.
Possessing an excellent visual memory, he will be able to convey in his paintings all his impressions, depicting what he did see in the smallest detail, conveying all the subtle shades of color, the play of light and shadows.
This is one of the paintings he created at the time of his first trip to Italy - a view of the Gulf of Naples.
Southern warm evening. The azure color of the high sky darkens, becoming blue. The setting sun shines brightly through the breaks of low dense clouds gathering at the horizon. Its rays paint the skies in delicate lemon-yellow shades, reflected on the calm sea surface. And only at the very horizon are light lilac shadows visible, making the transition from the water surface to the air one imperceptible. The lavender outlines of the islands dissolve into a haze, white sails are barely visible in the misty distance.
Small ripples are visible on the sea, the sun path shimmers, shimmering with warm golden-amber colors.
Swaying slightly on the waves, a twin-mast vessel is anchored. Almost all the sails have already been lowered, the crew is ready for the night's rest. Blue shadows lie on a large canopy covering the deck from the scorching sun. The last boat is getting ready to sail. A weak breeze is barely moving the red flag on the high mast.
A small boat is approaching the shore, with the rowers working harmoniously. Tired fishermen sit nearby relaxed. Serenity and peace are there. From the shore you can hear the noise of the evening city, the heated air is filled with the fresh scent of the sea. The cries of snow-white gulls are heard, flying low over the almost imperceptible waves. Evening shadows fall on the water, and only the sunbeams are still playing merrily on the sea ripples but glistening on the water drops falling from the blades of the oars.
A characteristic feature of the artist's work is a minimum of colors
: only blue, yellow, and brown. However, thanks to his artistic skill and talent, he manages to create such a variety of shades, to make the transitions between them so inconspicuous, which makes the landscape filled with warm sunlight, such a real, living sea breathes regularly, the sky shines with delicate opal colors.
The picture fascinates with its quiet charm, soft sincerity and romanticism, delights with its naturalness, harmony of man and the sea.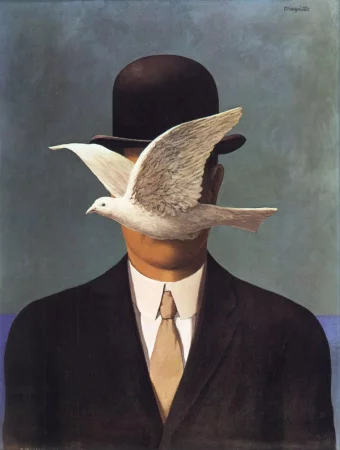 The man in the bowler hat, Rene Magritte
The man in the bowler hat - Rene Magritte. Canvas, oil. 70 x 50 cm...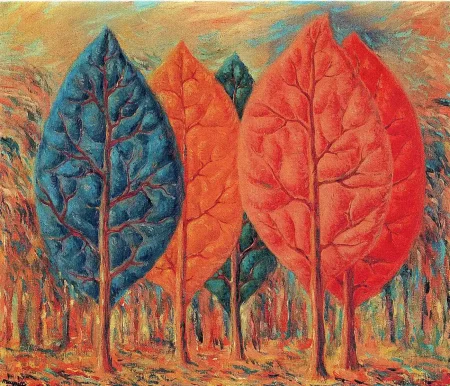 Flame, Rene Magritte
Flame - Rene Magritte. Paper, gouache. 54 x 65 cm...