Perspective Madame Recamier by David, 1949, Rene Magritte
Perspective Madame Recamier by David - Rene Magritte. 1949. Canvas, oil. 60.5 x 80.5 cm
Should you be interested in something unusual, immersed in the events of the distant past, and people who left their trace on the historical pages of the past, it is recommended to have a close look at the picture by the famous Belgian surrealist artist, featuring the philosophical view - Rene Magritte's "Perspective of Madame Recamier", written back in 1951 with oil paints on canvas. The color scheme of this painting is relatively warm, with the red-brick colors of the furniture is combined with the milky-white shades of the fabric textures; the composition of the picture is central, and the eye view falls on a certain white spot.
When trying to characterize a fine artwork based on the established expert opinions - the plot of the painting presents a remake of the famous one by the representative of classicism, painter Jacques Louis David. Most probably, this was one of the favorite masterpieces of the brush master.
What can you see on the canvas? This is not an elegant young lady resting on a couch; no, on the contrary - she is not there! Instead of a beautiful lady, there is a coffin shaped as per the outline of the lady, slipping into the spotlight, and it is only the hem of a graceful white dress flows, that peeks out from this fearsome ritual thing, descending along the couch edges.
Did the master hide the mysticism and darkness in the plot of his creation? The artist might want to show that the human depicted on the painting is no longer on this earth. When looking closely at the floating fabric of Madame Recamier's clothes, which is falling in folds, one can easily understand that this is the trace left in the history by the famous person of her time.
The mood of the work is sad and mysterious. The heroine, around whom a stream of different moods is spinning, introduced her own deck of cards. By using magical images featuring characteristic symbols, they still try to guess nowadays, willing to find out their fate. This, might be, only a legend though?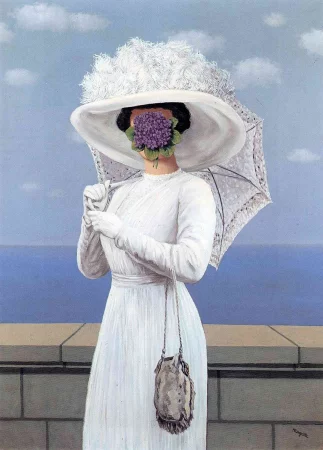 Painting The Great War, Rene Magritte - Meaning and Analysis
The Great War - Rene Magritte. Canvas, oil. 81 x 60 cm...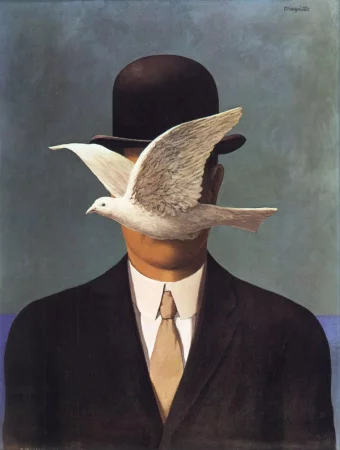 The man in the bowler hat, Rene Magritte
The man in the bowler hat - Rene Magritte. Canvas, oil. 70 x 50 cm...