"The Treachery of images (This is not a pipe)", Rene Magritte - Description of the Painting
Treachery of images - Rene Magritte. Canvas, oil. 59 x 65 cm
Rene Magritte lived in a sort of very individual reality, and his pictures were the only earthly and truthful matter for him. Transferring to the something worldly, something completely ordinary and uninteresting on his canvases, he reminds himself of his existence. Right at this moment. Right now.
For the painting titled "The treachery of Images" Magritte was reproached, and even his fellow surrealists failed to understand him. The painting was written at the time of his life in Paris. Rene's non-standard thoughts and ideas led to the situation where the other artists did not accept his philosophical ideas and images warmly enough.
The painting depicts a smoking pipe. Every stroke and line of it is perfect. The glare of light reflects the whole space around, in the center of which there is a small thing, looking gigantic on the canvas of a truly skilled artist. At the bottom of the canvas is a phrase written in beautiful calligraphy: " Ceci n'est pas une pipe ", which is the French for "this is not a pipe."
Subsequently, Magritte commented on his work in this way: "... if I wrote: " This is a pipe, "I would lie!" We present the pipe the way our memory remembers it, as we saw it. But after all, the tube may look differently, and not be the same as we remember it, just because the human memory tends to draw some details. Would it still be a tube then? Will. After all, this is "only an idea about it."
We see an object and we do know that it is a pipe. However, if we say that it is not a pipe, but rather a completely different object, would that still be a pipe? It will. After all, words and images are not the same thing. The pipe would remain a pipe only on Magritte's painting, since this is where we see what is not there: "The visible is not visible."
We see a pipe that cannot be picked up, cannot be looked at it from different angles. The tube does not exist, and this means that the color combination cannot carry the "pipe" title. After all, it's not a pipe. This is what our imagination draws it.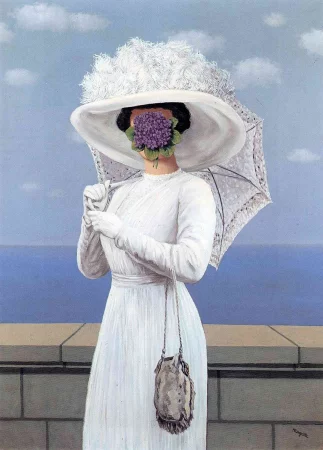 Painting The Great War, Rene Magritte - Meaning and Analysis
The Great War - Rene Magritte. Canvas, oil. 81 x 60 cm...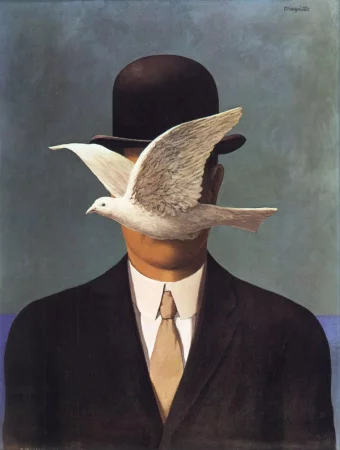 The man in the bowler hat, Rene Magritte
The man in the bowler hat - Rene Magritte. Canvas, oil. 70 x 50 cm...