Hans Dahl, the Norwegian Painter, Artwork
The history of Norwegian art knows many talented masters who glorified this distant northern country. And the name of Hans Dahl is deservedly included in the list. This talented artist created many works glorifying the beauties of his home country. His creative legacy included the brilliant landscapes and significant genre paintings.
During his eighty-eight-years long and fruitful life, the master suffered plenty of upheavals and changes. His living took place when the whole world was shaken by wars, and the state borders got redrawn as if by magic, and this happened to his homeland. He was born in Granvin, which today is in the west of Norway, but in those days formed a part of Sweden.
The artistic talents of the future master showed quite early, and Hans formed as an artist with his own creative style at the age of only sixteen. However, due to his early age, he was not able to get a proper education. This took place only after his active service in the Swedish army.
To enhance his skills, in 1873 Dahl moved to Germany, the center of the arts of those times. In the city of Karlsruhe he became a student of Wilhelm Riefstahl and Hans Fredrik Gude. Later, he continued his education in Düsseldorf.
Over the years, Hans Dahl managed to become one of the most prominent representatives of the Düsseldorf art school. His paintings sing of the beauty of the incredible open spaces and landscapes of his homeland, with high rocky mountains and huge sea coasts, nice green forests and fertile fields.
In the works by the master one can notice many clear sea spaces; in addition, there are traditionally full of the images of ordinary inhabitants of Norway, often dressed in the bright and easily recognizable national clothes. The artist's paintings are distinguished by a special style of writing, as well as application of deep and expressive tones, together with rich and spectacular combinations. In the meantime, his style of painting is very realistic, and the images created by him are always clear and voluminous, making the works seem to be filled with the fresh and clean Norwegian air.
Dahl was particularly good at depicting the sea. The waves shown on his paintings are remarkably real and moving. And this is not just a static image - the translucent mass of water is shown in such a realistic manner that the viewer feels as swaying on the waves at the mere glance of the canvas.
The master managed to survive the whole First World War and quietly passed away at an advanced age just on the eve of a new world catastrophe, in the year 1937.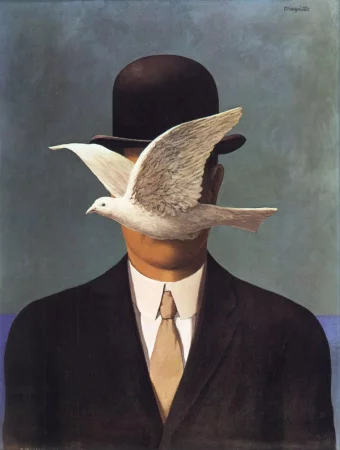 The man in the bowler hat, Rene Magritte
The man in the bowler hat - Rene Magritte. Canvas, oil. 70 x 50 cm...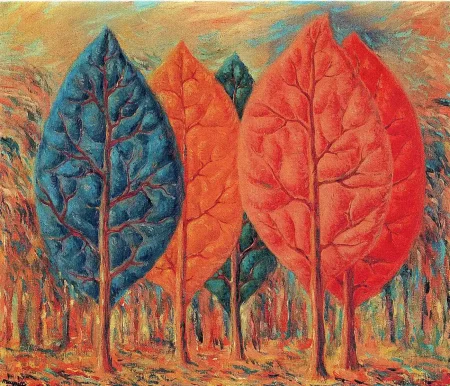 Flame, Rene Magritte
Flame - Rene Magritte. Paper, gouache. 54 x 65 cm...