Countess Spencer with her daughter Georgiana, Joshua Reynolds - Description of the Painting
Countess Spencer with her daughter Georgiana - Joshua Reynolds. Canvas, oil. 122 x 115 cm
In 1761, one of the members of the Spencer's noble family visited came to visit the London studio of the already well-known English portrait painter Joshua Reynolds. He ordered a portrait of his sister with her young daughter. For quite a long, it was believed that the Countess Spencer's portrait was ordered and paid for by her husband, but nowadays we know that this was not so.
In September 1761, the countess visited the artist's studio for four times to pose for the portrait. The master created the base of the painting during the first three sessions; however, he painted the girl Georgiana only at the time of the fourth visit. The child visited the artist only once.
After that, it took several days for the artist to correct the details and handover the work to the customer. It should be noted that after twenty years, an adult Georgiana visited Reynolds to order her portrait with the daughter. So, the remarkable English portrait painter portrayed several generations of the Spencer family, and Georgiana was painted even twice. The art historians note that some Georgiana's features could subsequently be noticed in the later works by Reynolds, where he depicted children.
As for the portrait itself, it was created with the artist being influenced by the masters of Italian and Dutch Renaissance. This is particularly evident in the greatness of the depicted characters. The author managed to convey the warmness of the family relationships perfectly: a mother sitting with a child in a relaxed pose, and with a smile noticeable on the mouth tips. Well, Reynolds brilliantly showed the power of family love through the hugs: the mother's hands are "locked" around her daughter, showing the tightness of her protection.
The dynamics of the picture is set by a small curly-pate dog present in the lower left corner, seeming to be playing with Georgiana, stretching its paw to her. Both mother and daughter are wearing beautiful dresses with goffering, to demonstrate the fashion of the late eighteenth century among the English aristocracy. There is one more fashion element visible, namely a nice table featuring the hand carvings, on which the girl is standing.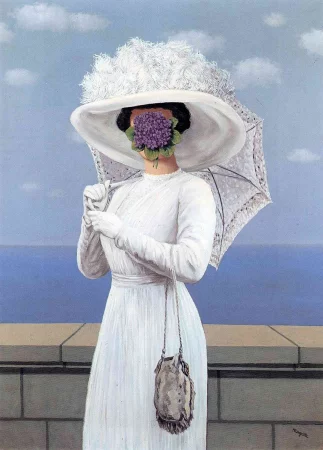 Painting The Great War, Rene Magritte - Meaning and Analysis
The Great War - Rene Magritte. Canvas, oil. 81 x 60 cm...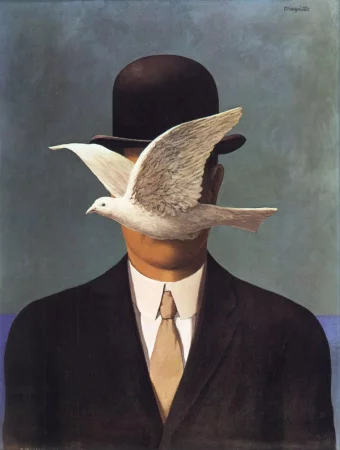 The man in the bowler hat, Rene Magritte
The man in the bowler hat - Rene Magritte. Canvas, oil. 70 x 50 cm...