The Duel After the Masquerade, Jean-Leon Gerome - Description and Analysis Painting
The Duel After the Masquerade - Jean-Leon Gerome. Canvas, oil. 50 x 72 cm
This painting perfectly conveys the very spirit of the tragic consequences of the duels of the nineteenth century. It was long, long time back when this cardinal way to resolve the dispute appeared; note that it was still actively used by the third class representatives of France in the nineteenth century.
A superficial glance immediately shows that is compositionally divided into two parts, the right side depicting the winner, and the left one being the loser's side.
The master brings the defeated participant to the fore, so that the viewers can evaluate the tragic consequences of the duel. A young man wearing a masquerade costume gets defeated by the opponent's sword; he is now lying on the arms of his comrades, who are trying in vain to save his life. The only thing they can do is to clamp the bleeding wound, and staying with their friend at the hour of death. It is quite characteristic that even a mortally wounded man does not let go of his sword, as if being ready to fend off an opponent's blow even in this situation.
One can notice that the victor does not manage to leave the battlefield unharmed – having left his sword on the snow, he walks, limping, and leaning on the comrade's hand. They retire to somewhere, behind a veil of fog; one can see a waiting carriage and people walking.
Apart from the victorious and defeated sides, the painter provides the viewers with the chance to restore the scene of the battle in their imagination, based on the consequences they saw. That is why the center of the painting is free, with only a cloak and a sword indicating that a bloody fight took place here.
Jean-Leon masterly focuses on the tragic component of the theme. Part of the painting with the dying Pierrot is distinguished by bright colors and a diverse palette, while everything else is shaded with grayish hues, to emphasize the drama, exactly as the author wanted to do.
Generally, even without going tool deep into all the compositional features of this painting, the viewer can easily get to a conclusion about the artist's attitude to duels and, what is most important, their consequences.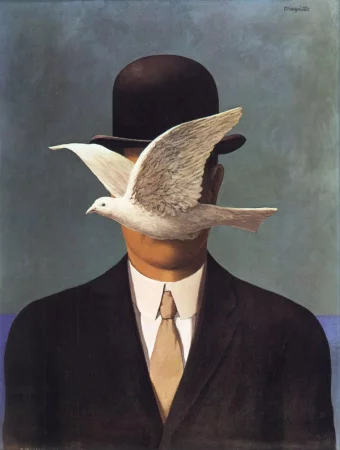 The man in the bowler hat, Rene Magritte
The man in the bowler hat - Rene Magritte. Canvas, oil. 70 x 50 cm...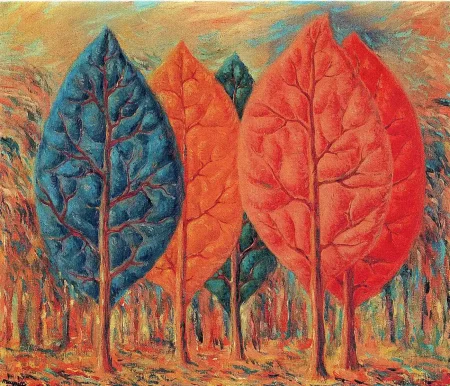 Flame, Rene Magritte
Flame - Rene Magritte. Paper, gouache. 54 x 65 cm...