Triptych War, Otto Dix - Description of the Painting
War - Otto Dix. Wood. 406 x 264 cm
The left side of this painting has something terrifying the viewer, who subconsciously feels that the worst of it is still ahead.
It is early morning. The pinkish sky got obscured by wreathing dark gray clouds. The battle has not yet started. The sky is its first harbinger. The earth is not yet sprinkled with the scarlet blood of the troops. Thick and caustic fog prevents one from moving forward and for many of them - to their very last battle ... The soldiers are heading to the mountain which, serving as a symbol of eternity and spiritual loftiness, is ready to accept them into her deathly cold cuddle.
The central part of the painting depicts the ruined city, seeming unreal, not belonging from this world. But the line of fire spares no one. The mess of strong warriors is another cruel example of the fact that even the strongest men are the still same people as all of us are. A soldier in a long raincoat with a respirator looks at the viewer, hiding his face from him forever. Even Jesus is taken off the crucifixion and thrown into a pile of meat and bones, as if the painter said: "This time God has turned his back on you." His bloodied flesh had long since lost the spirit, and the blood soaked into the ground long ago. Just like an angel of death, he hangs over the field of the dead, to accompany them on their last journey.
The bottom part of the painting is calm. The lives of the troops are no longer in danger, as what is dead cannot be killed. Their eyelids are now closed; they are all immersed in a deep eternal sleep. A strong chest is immobile, and the heart will never beat again. Brave soldiers cuddle side by side; they are destined now to remain in a mass grave forever.
On the right side of the painting, everything ended just the way it should. Bodies are to lie on an empty field forever – with no past and no future. Even the sunset sky seems to be filled with blood dirty mixed with dust. A soldier is carrying his wounded comrade, courageously overcoming fatigue - this is Otto Dix himself. From that moment on, there is only today for him. And this today is eternity.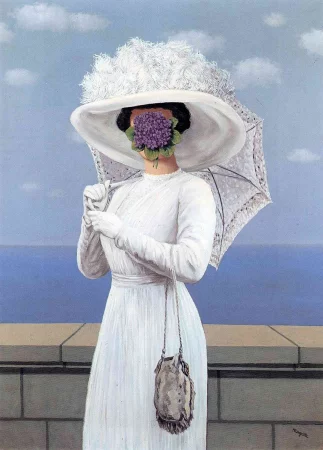 Painting The Great War, Rene Magritte - Meaning and Analysis
The Great War - Rene Magritte. Canvas, oil. 81 x 60 cm...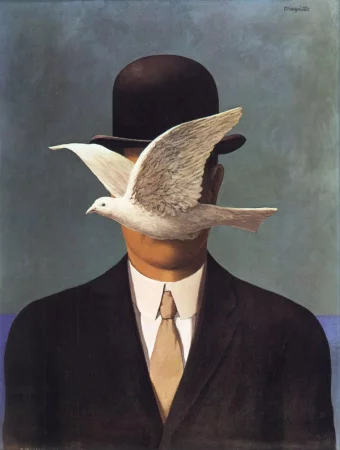 The man in the bowler hat, Rene Magritte
The man in the bowler hat - Rene Magritte. Canvas, oil. 70 x 50 cm...