Otto Dix, Portrait of the Journalist Sylvia von Harden, 1926 - Description of the Painting
Portrait of the Journalist Sylvia von Harden - Otto Dix. Wood, oil. 121 x 89 cm
Otto Dix was one of the most prominent and famous portrait painters of his time. The representatives of so many professions wanted their portraits to be painted by Dix. However, this one, the portrait of Sylvia Harden, was an exception in every way.
It was 1926, the time of the revolution in the world of high fashion. Women beginning to wear trousers and short skirts. Short styled haircuts and bright makeup seen in every second fashionista. But, it is not only the appearance of the woman that has changed. She is getting much more independent and freer in her judgments, much more courageous, and still does not lose any portion of her femininity. And Dix saw the very such a revolutionary woman on the street - in Sylvia von Harden, who was a bright representative of her time.
Dark circles visible under her tired eyes on a pale and elongated face; a sharp long nose, and lips painted with the bright burgundy lipstick, not hiding her yellow crooked teeth, huge palms... She is holding a cigarette in her long fingers, and one can observe a glass of Martini on the table.
This woman, just like many others women of that time, did not pay too much of her attention to the public opinion. Her black plaid red dress and monocle in her eye served a hallmark of this image and have since inspired not only art lovers, but also well-known personalities such as Bob Fossey. In his "Cabaret" movie there is the girl, appearing on the very first frames, in whom one can easily recognize the journalist Sylvia von Harden.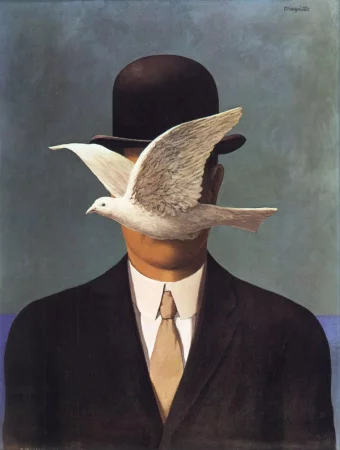 The man in the bowler hat, Rene Magritte
The man in the bowler hat - Rene Magritte. Canvas, oil. 70 x 50 cm...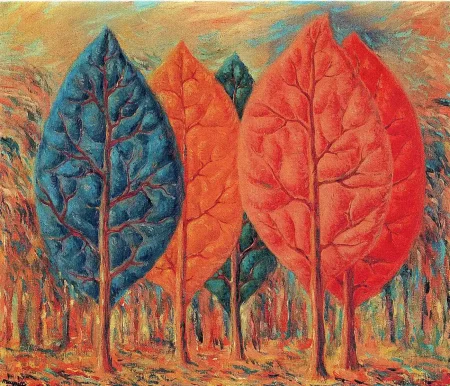 Flame, Rene Magritte
Flame - Rene Magritte. Paper, gouache. 54 x 65 cm...