The Spanish wedding, Mariano Fortuny - Description of the Painting
The Spanish wedding - Mariano Fortuny. Canvas, oil. 60 x 93 cm
The brilliant artistic masterpiece titled the "Spanish Wedding" was painted by Mariano Fortuny in the genre of realism. The master commenced his work in Rome and completed it in Paris, working on it for two years, from 1868 to 1870.
The concept of this picture was very cunning. Mariano Fortuny liked visiting temples, and he was inspired by the atmosphere of the parish church in Madrid. While preparing to his wedding with Cecilia, he worked on this painting, talentedly depicting himself and his wife, together with her sister Isabelle, and relatives and friends on the canvas.
The action depicted on the painting, takes place in the church sacristy. The spacious room is shown, decorated with gilded icons and engravings, figurines of angels, and carved mirrors. The work demonstrated the very moment of signing the marriage contract. The main characters on the painting are the bride and groom, both dressed smartly and solemnly, just in the fashion of the eighteenth century. There is a priest in a black cassock, overseeing the ceremony, who has already blessed the newlyweds for marriage. The exquisite technique employed by the master, adds the grandeur and simplicity. Men's suits are gallant, while women's dresses are sumptuous and elegant. The women have the lace capes and combs on their heads, and the men wear cocked hats. Some of the household items were the artist's personal belongings.
Mariano Fortuny applied contrasts in his paintings. The dark colors used for depicting the church interior, are masterfully combined with the bright colors, giving the picture a particular mysterious style, full of the spiritual harmony. The master made a perfect attempt to express all the important life moments in this work, talentedly using a brush, thinking about his family life, and idolizing his future wife. Owing to his spectacular diligence and painstaking work, the painting turned out brilliant and become world famous, making society highly appreciate the merits of the master!
The canvas carries a romantic mood, giving goodness, light, love, and as such will suit the interior of any living room, adding pleasant and joyful impressions.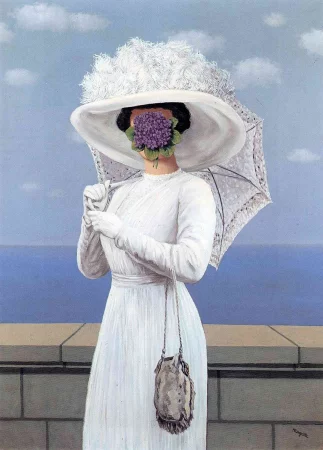 Painting The Great War, Rene Magritte - Meaning and Analysis
The Great War - Rene Magritte. Canvas, oil. 81 x 60 cm...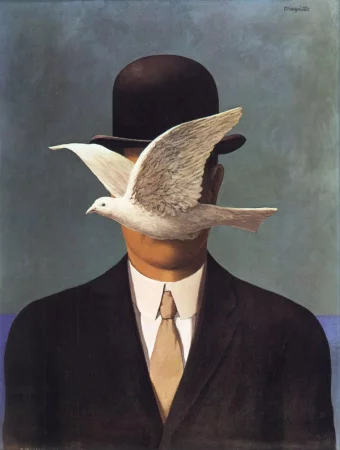 The man in the bowler hat, Rene Magritte
The man in the bowler hat - Rene Magritte. Canvas, oil. 70 x 50 cm...