Painting "Mona Lisa (La Gioconda)", Leonardo da Vinci, 1503 - Description, Meaning and Analysis
Mona Lisa (La Gioconda) - Leonardo da Vinci. 1503-1505. Wood, oil. 77 x 53 cm
"Mona Lisa" is the great Leonardo da Vinci's most famous work, created supposedly in 1501-05, with Lisa Gherardini, the wife of a silk merchant named Francesco del Giocondo, posed for him.
Although this portrait was written simply to order, he actually occupied an exclusive place in the soul of the artist. This can be easily understood considering the numerous references to the painting in the Leonardo's "Treatise on Painting" and his notes.
Even though a lot of time was spent on the painting, it is still believed to remain incomplete. Nevertheless, the critics marked the striking naturalness and threading look of Mona Lisa. The hydration of her eyes, the naturalness of her skin, and the accurate transmission of eyelashes could not leave anyone indifferent to this verily great work.
When taking a closer look at the bend of the girl's neck, one is about to feel her pulse. The propitiation and grace of the pose depict all the subtlety of the Gioconda, emphasizing its unique beauty.
As Giorgio Vasari, the author of Leonardo's biography, wrote: "da Vinci managed to achieve the famous, mysterious half-smile because, while writing the portrait, the girl was being entertained by the lyre, songs, and even invited jesters who did their best to maintain her high spirits." But, most probably, this was only his personal guess or exaggeration since there is no exact evidence of that.
The model's identity also caused controversy and different speculations for a long time. But, thanks to indirect evidence, namely the mention in the margins of the folio belonging to Agostino Vespucci, referring to the portrait of Lisa Gherardini, we can certainly conclude that it is she who is depicted in the painting.
The scientists from the University of Heidelberg who studied these notes managed to verify same, because Vespucci was personally acquainted with the artist. The painting was ordered by her husband in honor of the birth of their second son.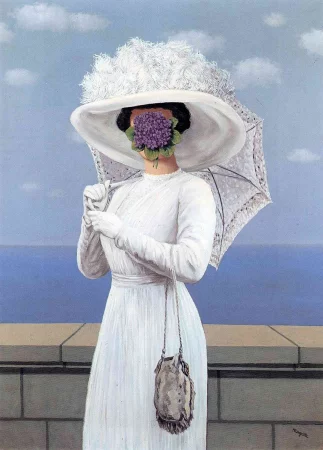 Painting The Great War, Rene Magritte - Meaning and Analysis
The Great War - Rene Magritte. Canvas, oil. 81 x 60 cm...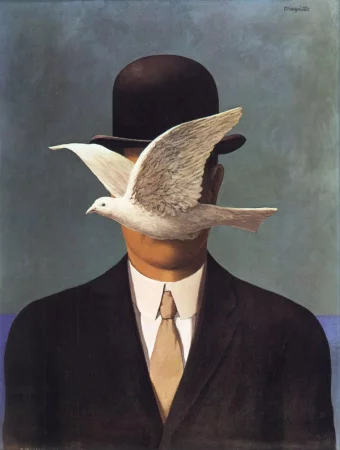 The man in the bowler hat, Rene Magritte
The man in the bowler hat - Rene Magritte. Canvas, oil. 70 x 50 cm...