Painting "School of Athens", Raphael. Who is Who? Meaning and Analysis
School of Athens - Raphael Santi. 1510-1511. Fresco.
The fresco titled "The School of Athens" was created by Rafael Santi in the period of 1510-11 within the frame of the project consisting of painting the four rooms in the papal palace, to symbolize the science of philosophy.
It is placed in the hall utilized for the undertaking the papal tribunal and signing of decrees.
For a long time the disputes took place about the purpose of this room and several versions were expressed, for instance, hosting the papal library. But, the historical references and indirect references helped to establish the truth.
The fresco shows the great men of that time, whom any contemporary could easily recognize by sight:
Heraclitus, sitting in the foreground, morose and thoughtful

Epicurus, on the left, wearing blue robes and with a laurel wreath on his head.

Pythagoras, on the left, having a book in the foreground

Socrates, half-turned on the top step, wearing a grass-colored robe

Diogenes, on the stairs in blue, with his chest half-naked

Plato holding the treatise of "Timaeus"

Aristotle with the Nicomachean Ethics.

The room where these figures are placed was designed by the Roman architect Bramante to emphasize the critical significance of philosophy for the society of that time.
High ceilings, bright blue sky, and sculptures within the alcoves - all these details are there to convey the mood of perfect pathetic. And, considering that Raphael violated the laws of linear perspective, and did not reduce the figures of people place further from the viewer, this resulted in the effect of a real presence, like the one is inside a fresco.
"The School of Athens School" is for sure one of the most outstanding works belonging to the Renaissance times. The monumentality and grandeur of the interior surrounding the philosophers, the scale of the fresco itself, the cultural significance of depicted characters - all these make Raphael's creation a landmark masterpiece of the whole epoch.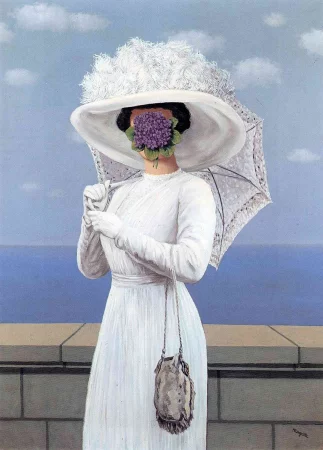 Painting The Great War, Rene Magritte - Meaning and Analysis
The Great War - Rene Magritte. Canvas, oil. 81 x 60 cm...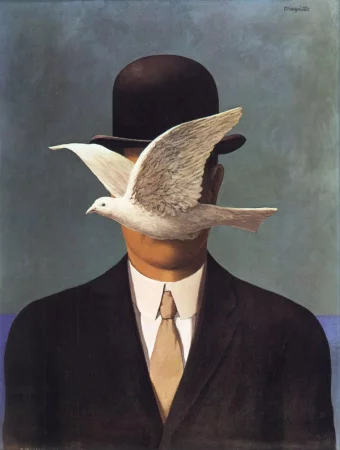 The man in the bowler hat, Rene Magritte
The man in the bowler hat - Rene Magritte. Canvas, oil. 70 x 50 cm...