Parisian coachman, Christian Krohg - Description of the Painting
Parisian coachman - Christian Krohg.
The work created by the famous Norwegian artist depicts a pretty colorful character, namely a cheerful cabman from Paris, having a full-blooded smiling face featuring a fair double chin. This detail is there to emphasize the fact that the captured character is satisfied with his life and his position. At the very first glance at the painting, one wants to smile in response, since this cheerful man holding a long whip in his hand immediately attaches viewer to himself.
There are not too many details shown in the picture, only the upper part of the coachman's figure is visible, and also the partial outlines of a black cab just the his back are guessed; in the background of the painting one can observe the characteristic buildings of the central part of Paris.
The background is shown using the generous sweeping brushstrokes, in a manner characteristic of works created in the Impressionist style. The buildings are painted in a light greenish-gray color not distracting the views of the audience. This emphasizes the warm colors of the coachman's face, which are mainly dominated by shades of red, yellow and orange.
Several tiny details in the background accentuate the presence of a coachman on the Parisian streets: in addition to high buildings, the figure of a woman crossing the road, as well as another fiacre riding in the distance, made in warm brownish colors, are clearly visible. All of the background images are quite blurry and soft, as if drowning in fog, in contrast to the coachman's face, on which the details are quite emphasized.
The driver has in dark attire with bright color highlights: a black frock-coat, a dark red velvet waistcoat and a wide very "sunny" orange tie, the latter looking spectacular against the background of a bright yellow shirt and a rich shade of a vest. There is a high shiny black cylinder hat on his head.
Despite the whole simplicity of the painting, its plot is so memorable that it easily remains in the human memory for a very long time. The canvas is filled with space and air, leaving a joyful feeling of the fullness of life.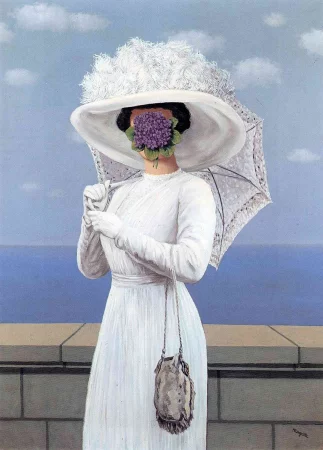 Painting The Great War, Rene Magritte - Meaning and Analysis
The Great War - Rene Magritte. Canvas, oil. 81 x 60 cm...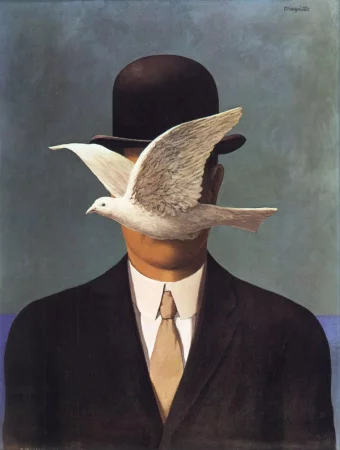 The man in the bowler hat, Rene Magritte
The man in the bowler hat - Rene Magritte. Canvas, oil. 70 x 50 cm...