Portrait of the Swedish Painter Karl Nordstrom, Christian Krohg - Description of the Painting
Portrait of the Swedish Painter Karl Nordstrom - Christian Krohg.
The present portrait is a very interesting work in terms of both concept and style. It depicts the famous Swedish painter Karl Nordström, who was a landscapist famous for his winter, deserted landscapes of Sweden.
Nordstrom himself was praised for the refinement and exquisiteness of his compositions. References to his specialization and his ability to properly depict the landscape can be noticed in his portrait by another master of the brush, the Norwegian artist Christian Krohg.
On the portrait, Nordstrom is depicted standing on a balcony or at an open large French window, with his back to the viewer, so that one can only observe a partial profile of the artist. The character looks out of the window into the distance, at the prospect of a newly founded regular park, which stretches before him. Behind the woodland, there is a quite wide blue ribbon of the river and a distant dense forest visible.
The picture is filled with air and features light colors, against which the artist's figure in a dark suit stands out legibly and in relief. The outside landscape itself is depicted in the lightest, airy shades of green, yellow and blue. No fine details there, everything seems to be absorbed by a weightless haze, however, it is easily understood what exactly is painted - trees, undersized shrubs, neat borders and mowed lawns.
The figure of the painter stands out distinctly against this light background. He is dressed in a dark, almost black, simple suit and a small hat with a low, rounded crown, just in the fashion of that time. His profile is partially visible, revealing the face of a still young man, fair-haired, short-haired, having a neat reddish wedge beard and a well-groomed mustache. He stares into the distance, enjoying the sunny day, possibly evaluating the object for his new painting. His reflection in the glass of the open window sash complements the image, making it deeper and more expressive. The effect of volume and space in this painting is perfectly created by the lines converging into a triangle - a window frame with a crossbar and a railing with a dramatic carved edging.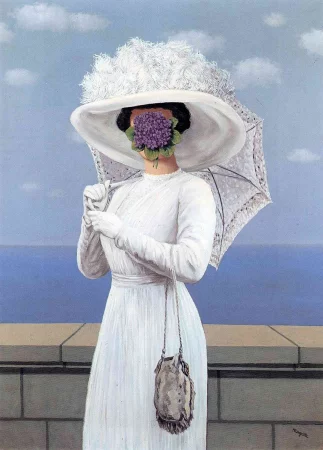 Painting The Great War, Rene Magritte - Meaning and Analysis
The Great War - Rene Magritte. Canvas, oil. 81 x 60 cm...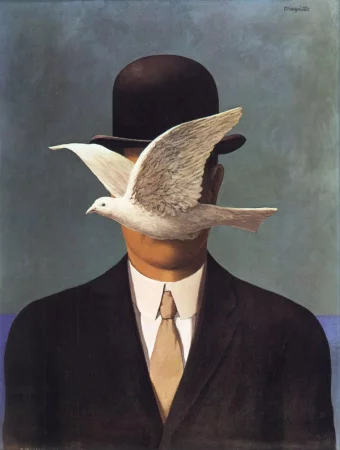 The man in the bowler hat, Rene Magritte
The man in the bowler hat - Rene Magritte. Canvas, oil. 70 x 50 cm...