Fantasy in Twilight, Edward Robert Hughes - Description of the Painting
Fantasy in Twilight - Edward Robert Hughes
Edward Robert Hughes (1851-1914) was English artist, member of the Royal Society of Watercolors, and a disciple of the Pre-Raphaelites. During his lifetime, the master managed to gain fame not only in his native country of England, but also far beyond its borders; the creator, whose paintings are saturated with the spirit of symbolism and aestheticism and the picture titled "Fantasy in Twilight", created by him back in 1911, is no exception.
The subject painting depicts a truly arcane and magical time of day – twilight - the moment when the day has already burned out, and the night has not yet come into its own. The mystic transition of nature to sleep, fascinating the main character of the canvas, namely a girl dressed in a dark blue robe. Her head is covered with a piece of linen, from under which there are several light brown strands knocked out, and the very last sunrays are reflected on the girl's face and hands.
The maiden is shown behind an old crooked tree, playing a wooden pipe, with her eyes covered; she seems to be filled with peace, seeing off the fading day with her playing. But this is only what the viewer sees at first glance. Indeed, if one looks at the tree against which the young beauty leaned, he can notice a certain border dividing the picture into two worlds - earthly and spiritual. In the former, there is a girl, and on the latter – fog is stretching. The fog in the glare of the fading sun takes different shapes, and these are the faces of many angels descended from heaven. The messengers of the Lord play the trumpets, thus echoing the child of the Earth. Doesn't the maiden meet them with her music?
Isn't the divine song devoted to her? She does not seem to see anything around her. By closing her eyes, she gives herself to this very moment of faith, beauty, and purity. This moment is so sublime and beautiful that it creates a bridge between the grandeur of heaven and the everyday life. Indeed, twilight is a crack between the worlds.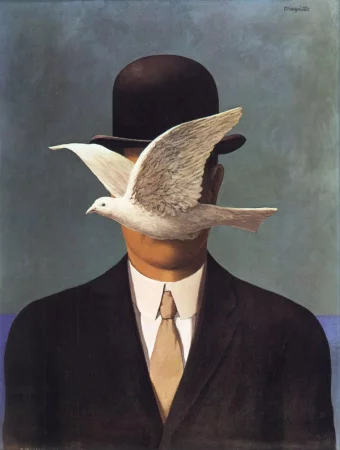 The man in the bowler hat, Rene Magritte
The man in the bowler hat - Rene Magritte. Canvas, oil. 70 x 50 cm...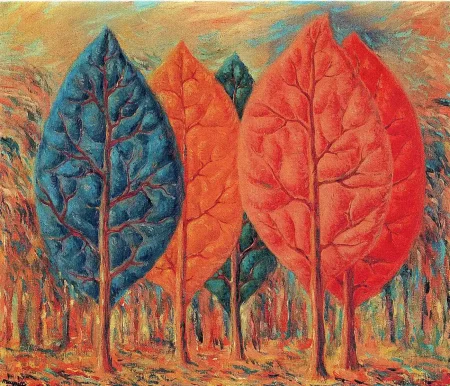 Flame, Rene Magritte
Flame - Rene Magritte. Paper, gouache. 54 x 65 cm...