The Battle of Stamford Bridge, Peter Nicolai Arbo
The Battle of Stamford Bridge - Peter Nicolai Arbo
The famous Norwegian artist Peter Nicolai Arbo can de deservedly referred to as a historical painter. Throughout his life he was interested in mythology, medieval and ancient history of Norway, Germany, and England.
Upon completion of his art education in Copenhagen, followed by the study at the Dusseldorf Academy of Arts, Peter Nicolai left for Paris, where he painted one of his most famous works, namely "The Battle of Stamford Bridge" in 1870.
It is quite natural that such a great historical event as the Norwegian invasion of England, determining to some extent the fate of the Vikings in English lands, did not remain aloof from the painter.
In the September of 1066 the Norwegian king Harald the Severe, with an army of about seven thousand warriors and a fleet of three hundred ships, claimed the English throne, and began the invasion from the north-east of England.
The Anglo-Saxon troops, being led by King Harold Godwinson, based in the south of the country.
The Vikings made a quick moved, easily cracking down on the local militias. However, the English army approached, and opponents met at the crossing of the River Derwent, known as the "Stamford Bridge".
The painting by Arbo shows the final scene: the battle lasted the whole day, and the warriors are so tired, falling not only from their wounds, but also from tiredness. The Vikings created a ring of shields, swords, and spears in an effort to repel and hold back the onslaught of the British forces.
In the center of the painting there is Harald the Severe himself, wearing crown and festive clothes. He fights off enemies with a sword and no chain armor. But, in the heat of battle, the king forgets about his own safety and a ruthless thin arrow pierces his throat.
The Norwegian king is dead. His warriors keep fighting even more fiercely, although the British offered peace; but, by the evening the Scandinavians had to admit defeat and retreat with only twenty-four ships, promising never to set foot on English lands again. This is the story. And the power of Arbo Peter Nicolai's talent makes us, after carefully viewing his perfectly painted picture, want to learn more about the harsh Vikings, the brave berserkers and the mysterious northern fjords.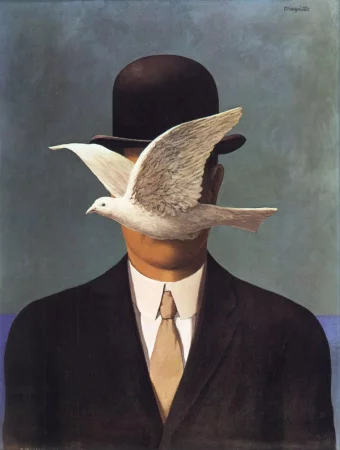 The man in the bowler hat, Rene Magritte
The man in the bowler hat - Rene Magritte. Canvas, oil. 70 x 50 cm...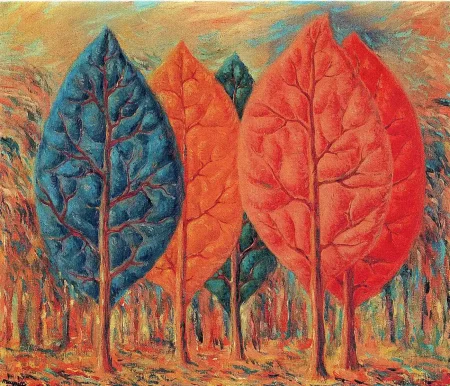 Flame, Rene Magritte
Flame - Rene Magritte. Paper, gouache. 54 x 65 cm...