Ingeborg, Arbo Peter Nicolai - Description of the Painting
Ingeborg - Arbo Peter Nicolai
The art master Peter Nicolai Arbo is commonly referred to as the "singer" of Norwegian history, Scandinavian and German mythologies, and fairy tales.
The young man received his education in Copenhagen, in Düsseldorf at the famous and influential Academy of Arts, and then lived and worked in Paris, and subsequently in his native Norway. However, the historical and mythological themes did interest him throughout all his life.
Back in 1868, when living in France, Peter Nicolai created a beautiful portrait of Ingeborg. What could be so interesting about the heroine for the author?
On the picture there is a beautiful, blonde-haired woman, with her gaze calm; in the meantime, one can feel her inner strength, pride, and self-esteem. And that is for good reason, since this is the daughter of the Norwegian king Sogn from Sognefjord.
The childhood affection of Ingeborg and Fridtjof, who was the king's adopted son, gradually grew into love. The young man made a proposal, but the king insulted and humiliated him, declaring in front of everyone that she was not intended for the peasant's son, but "only an imperious king is worthy of the clear daughter of Valhalla." Fridtjof promises to conquer the beautiful Ingeborg, asking her to run away with him; but the girl, after the death of her father, could not disobey her brothers, that is why the sad and disappointed young man went to sea to become a strong warrior and a brave Viking. After some time, the girl is given in marriage to the old king Ring.
Many more years have passed before Fridtjof returns to his native places. The king Ring dies, and Fridtjof, who is already an honored warrior, enjoying universal love, builds a beautiful temple.
With so many trials, Ingeborg and her Viking lover Fridtjof traveled a very romantic and difficult way before they finally met and "joined hands over the altar" in this newly built temple, just as described in Esaias Tegner's "Fritjof Saga".
Ingeborg is on the seashore, looking far into the distance, and thinking of her beloved, awaiting his return, and this must be that very very moment captured by the talented master Arbo.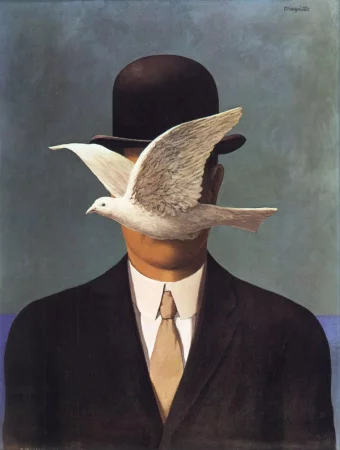 The man in the bowler hat, Rene Magritte
The man in the bowler hat - Rene Magritte. Canvas, oil. 70 x 50 cm...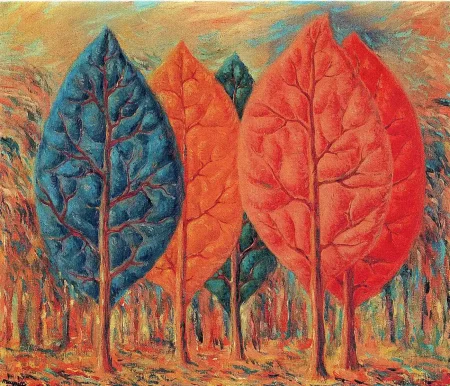 Flame, Rene Magritte
Flame - Rene Magritte. Paper, gouache. 54 x 65 cm...