Girl near a rhubarb bush and a goose, Nikolai Astrup
Unlike his modernist contemporaries, Nikolai Astrup did not paint bohemians and urban landscapes. Instead, he sought the beauty of his native land and simple rural areas. The master was fond of drawing Norwegian nature, to which he was always close. Surprisingly, the Nordic beauty of this country does not look cold and impregnable, welcoming everyone who lives on it and being ready to bestow her riches on everyone.
Too little is known about the works of this artist outside the circle of Norwegian art historians. However, the critics treat him as undeservedly forgotten, since he did surpass his famous countryman, Edvard Munch, in many ways. A mood of quiet benevolence and contemplation, as well as slight naivety is present on all works by Astrup. This is how the master violated the tendencies of expressionism, where the motive of aggression and passion traditionally prevailed.
In his painting titled the "Girl at the rhubarb bush and goose" we can observe a rural idyll. The household is not luxurious, but nature shows its abundance. In the vicinity of the small house there is a garden where a girl collects rhubarb. Behind the girl, just under a flowering tree, stands a goose, occupying a small part of the scene, but certainly attracting the viewer's attention. The goose seems to be watching the girl's actions with curiosity.
The house shown behind them deserves special attention, since it is depicted in the traditional Scandinavian style, with its roof covered with moss instead of tiles. The subject detail adds some additional North European flavor.
It would be worth noting how the artist plays with light. Applying only three colors - green, gray, and brown, the painter succeeded to convey to the viewers a sense of the weather. The bright sun seems to be going to break through the thick gray clouds and enlighten the wet greenery and damp fertile land.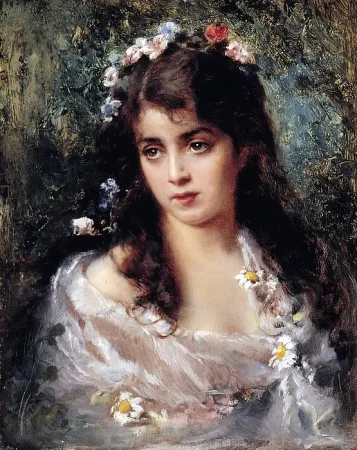 Girl dressed as Flora, Konstantin Makovsky
Girl dressed as Flora – Konstantin Egorovich Makovsky...
The Suppression of the Indian Revolt by the English, Vasily Vereshchagin
The Suppression of the Indian Revolt by the English – Vasily Vereshchagin...