Buttercup Night by Nikolai Astrup
Buttercup night - Nikolai Astrup. Woodcut. 40 x 47.1 cm
The work of Nikolai Astrup titled the "Buttercup Night" was created back in 1915, just at the peak of the master's creative success. Like the other canvases of the artist, the main motive in this work is the beauty and grace of the Norwegian province.
The people tend to associate Nordic landscapes with cold, harshness and gray colors, but Astrup's vision different from theirs a lot. His attitude towards his homeland was reverent. And even visiting so many countries, the dearest place to his heart was a manor in his native city. These feelings for his native places can serve as an explanation of why his Nordic landscapes feature so much of colorfulness and cheerfulness.
On this picture, a village is depicted, with the small wooden huts compactly placed. It seems that human intervention did not impact the harmony of the local environment in any way. People live in a peace and full harmony with nature. It is obvious that the master was inspired by the picturesque views of his native Jölster, where he spent most of his life; today, there is there is a museum dedicated to his biography and creative way, in his house.
The landscape in the painting is diverse, combining the plains and mountains with large snowy caps, lush greenery, swamps, flowering trees, and forests in the background of the canvas. Nikolai Astrup lived his life being surrounded with such landscapes and used to copy them from nature.
The second title of the subject work is the "White Night", referring the viewer to a unique phenomenon that can be observed in northern Europe. The artist masterfully conveyed the lighting of twilight using the lilac shades. This tone you can see in the evening sky, mountains and ponds reflecting the light.
The work is executed in the master's well-known style; Astrup managed to embody several incarnations - an expressionist, an engraver and, finally, a naivete. Being a truly unsurpassed colorist, he applied a wide palette of colors in his works, continuously playing with their transitions. His passion for engraving also influenced the picture, since the woodcut elements are clearly visible here.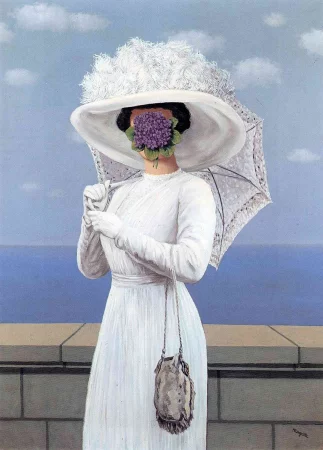 Painting The Great War, Rene Magritte - Meaning and Analysis
The Great War - Rene Magritte. Canvas, oil. 81 x 60 cm...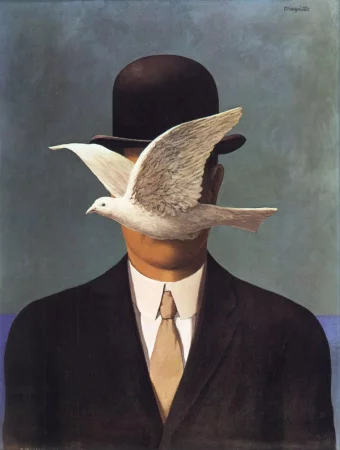 The man in the bowler hat, Rene Magritte
The man in the bowler hat - Rene Magritte. Canvas, oil. 70 x 50 cm...