Factory building next to a frozen river, Frits Thaulow
Factory building next to a frozen river – Frits Thaulow. 1892. Pastel, Paper. 64.8 x 100 cm
Frits Thaulow's love for the water of any kind, be it the sea or just a small river, is due to the years of his study, as the first teacher of the future master was the marine painter Karl Frederik Sørensen. The artist treated water as a living being with its own character, mood, and demeanor.
Here we see is a winter landscape. The Norwegian Thaulow has passion for snow and winter scenes, since he lived in this harsh climate, and he always found natural beauty in it. Thus, Thaulow had two loves - water and snow, and both found their reflection in this painting.
The boring landscape made of the brick wall of the factory and the river chained along the banks, lots of snow, and a small forest seen in the distance, as well as the whitish sky, was turned by the master into a perfectly elegiac joyful scene, filled with peace and admiration. The sun so brightly shines on everything around, and the water gurgles so merrily, rushing deep into the painting.
The harmonious combination of two such significantly differing techniques is indeed striking: the entire landscape looks like we are watching through a haze, but in the meantime the river is depicted clearly and painstakingly. One would get surprised even more when finding out that the picture is painted in pastel.
The artist managed to show the incredibly soft reflections of the sun rays in a filigree way, depicting the mirror-like water surface with the solar reflections on it, the snow, which became glossy after having melted a bit.
What do we see? Is that winter coming into its own right, or spring gradually warming up this prosaic landscape with a plant? The mood of this painting makes the viewer sure that these are spring metamorphoses - the river throwing off its icy shackles, and the gentle sun warming the earth.
Initially, the pictures appeared before the wide audience in the year 1889 at the World Exhibition held in Paris. Both art critics and spectators appreciated this picturesque and vibrant landscape created by the Scandinavian impressionist. Today, we can only fully support their opinion.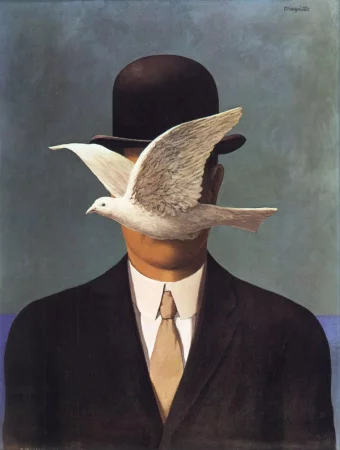 The man in the bowler hat, Rene Magritte
The man in the bowler hat - Rene Magritte. Canvas, oil. 70 x 50 cm...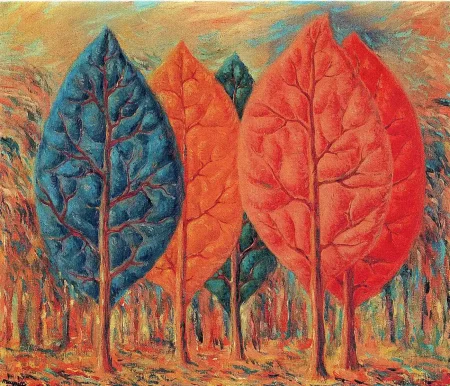 Flame, Rene Magritte
Flame - Rene Magritte. Paper, gouache. 54 x 65 cm...