River Landscape, Frits Thaulow
River Landscape - Frits Thaulow
If you ever wondered which of the masters depicted water best of all, then this work titled the "River Landscape" by Frits Thaulow, might serve as an answer.
The plot of this painting is traditional for a Norwegian impressionist painter. One seems to be standing right in the middle of a narrow river, having his eyes fixed on the outgoing current, which smoothly turns to the left. The direction of the flow could be guessed from the position of the thin grass near the banks.
Such a composition made it possible to picturesquely depict many elements, particularly the river both in the near approximation, and in the far, as well as the steep bank and buildings standing on the riverbank. Such a place with not the most luxurious landscape would seem quite ordinary, but how much poetry, admiration, and real beauty is here ...
The river is, of course, the "main character" of the work. The artist Thaulow brought up his love for the image of water from his youth, while being taught by the excellent marine painter Karl Frederik Sørensen. Everything on this canvas is painted talentedly and emotionally, but the water surface is perfectly accurate. One can notice every single unevenness, splashes of waves, and small whirlpools inherent in rivers.
Note the matte surface at the feet in the distance with a mirror shine, reflecting the autumn sunless sky. The subject transition is painted out amazingly carefully and realistically.
The rest of the "characters" of the work also feature their natural charm – here we are talking about the thin trees with bare branches, as well as the traditional houses and a pointed turret which can be observed far in the distance.
The tones are close to real ones. It should be noted that Frits Thaulow is a unique figure in the whole history of Impressionist painting. Addicted to the realistic traditions of painting, he added the mood and subtle depiction of the light-air environment, which are typical for the Impressionists. He preferred the open-air painting, which is why his canvases are so truthful, showing great and sincere love for the nature, making them remarkably emotional.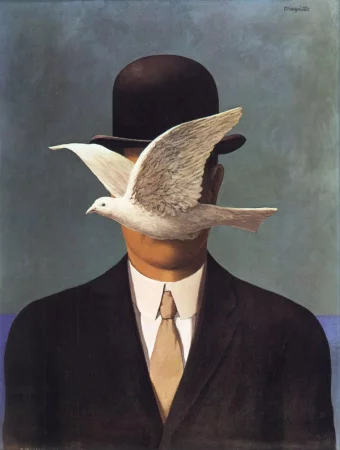 The man in the bowler hat, Rene Magritte
The man in the bowler hat - Rene Magritte. Canvas, oil. 70 x 50 cm...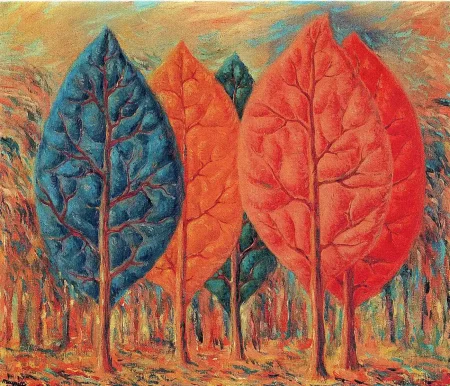 Flame, Rene Magritte
Flame - Rene Magritte. Paper, gouache. 54 x 65 cm...