Houses on the edge of the shore, Frits Thaulow
Houses on the edge of the shore - Frits Thaulow. Oil on canvas 33x46 cm
The "House on the edge of the shore" is referred to as maybe the most "impressionistic" of those created by the Norwegian artist Frits Thaulow. The master, who became a part of the history of fine arts as a "northern impressionist", preferred to work in a realistic style, but he liked to add some special light and air environment. The present canvas, however, seems to be entirely written in the famous French style, meaning "impression" when translated.
One will notice very few clear lines on this painting and no objective contours; the whole composition is made with local-colored spots, and the brushstrokes are small and neat. This all resulted in a beautiful landscape, which is full of cheerfulness and movement.
The plot of the canvas is quite traditional for Thaulow. The rives moves "from the viewer", with its smooth bend taking the eye deep into the canvas. In the meantime, one can really feel himself within the plot - as if watching a beautiful landscape, with the sunlight obscuring his or her eyes, making the objects seem a bit blurry.
When checking the works by Thaulow, the number of variations that can be made based on the same compositional structure, is impressive. And each painting will feature its own image of the nature will be different and the special mood. The artist, as if with a sharp instinct, felt what the particular modest place "breathes" with. That is why there is no surprise in his his most popular and talented works being such chamber landscapes in small towns and villages.
What would be the mood of this painting? Have a look at the bright colors of the water, undoubtedly playing the main role here! See how much light, spilling over the roofs and tall, wild grass is there! The sky is so cloudless and shimmering with a gentle shade of blue!
Every single detail of the present painting is created with remarkable love and reverence; that is why even after so many years we can still feel exciting delight inspired by a beautiful, warm, cloudless day. The greatest beauty can be in the small, as Frits Thaulow says.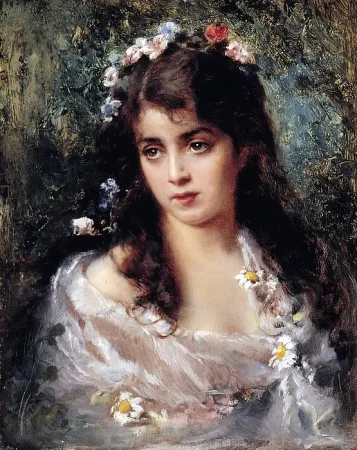 Girl dressed as Flora, Konstantin Makovsky
Girl dressed as Flora – Konstantin Egorovich Makovsky...
The Suppression of the Indian Revolt by the English, Vasily Vereshchagin
The Suppression of the Indian Revolt by the English – Vasily Vereshchagin...