Sea troll, Theodor Kittelsen - Description of the Painting
Sea troll - Theodor Kittelsen.
There are magical creatures often mentioned in Scandinavian legends - forest, mountain or sea trolls. Walking through the forest or along the seashore, everyone can blunder against them.
Today, in the Scandinavian countries, local people keep telling many stories about such encounters. The fishermen Johan Persa and Elias Nilsa caught a sea goby in the sea. It was so terrible that Elias spat in his mouth and threw him back into the sea. Suddenly, just before his eyes, the fish turned into an awful fright. This very moment was depicted in one of his early paintings created in the north of Norway by Severin Kittelsen.
The first thing immediately catching one's eye in this picture is a lone bird flying towards the seashore. The wind blows the gloomy low clouds. Big waves crash against the stern and sulky rocks. This is recognizable image of the harsh Norwegian nature.
But if you shift your eye a little to the side and you get scared. From the seething sea, a terrible sea troll is rising through a swirl of foam, with saliva running from a huge open mouth dotted with the dense sharp teeth. Its flattened nose draws in wet air noisily. Small evil eyes squint, carefully searching for a prey. You can even hear the ominous roar of the monster. A stormy wind ruffles wet shaggy wool, with the algae entangled in it. Right now, the paws with spread fingers are pressed to the body, but they are ready to grab the fish at any moment. It is not surprising that a human got scared when meeting such a monster.
The painting is monochromatic, which adds the astonishing expressiveness. The brutal and vicious troll seems to be an absolutely real creature, just like the rocks and the sea surrounding it.
The artist managed to reveal the mysterious and magical world of northern legends. One wants to review the painting again and again, despite the feeling of fear deep inside.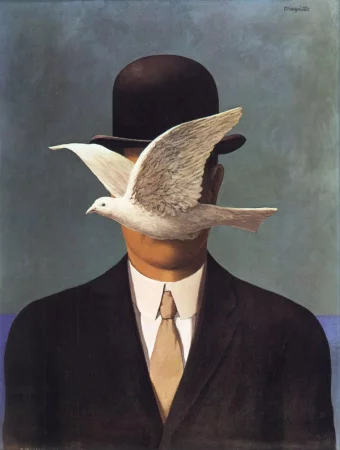 The man in the bowler hat, Rene Magritte
The man in the bowler hat - Rene Magritte. Canvas, oil. 70 x 50 cm...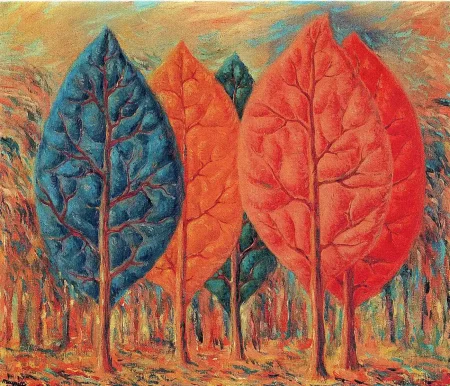 Flame, Rene Magritte
Flame - Rene Magritte. Paper, gouache. 54 x 65 cm...