Woodpecker, Theodor Kittelsen - Description of the Painting
Woodpecker - Theodor Kittelsen.
Back in the 1890s, the artist wrote the book titled "Black Death", dedicated to the plague epidemic that took place in Norway. One of the eerie illustrations for it was a gloomy black-and-white picture "The Beggar" - a dead pilgrim lying on a forest road, over whom a flock of crows is circling.
In 1912, just two years before his death, Theodor Kitttelsen created the painting titled "Woodpecker", which was very similar to the old image. However, look how great is the difference between them!
The canvas depicts a northern coniferous forest on a sunny day. No bright colors, only quiet and muted tones. The noble mighty spruces and slender pines rise up to the sky, with their dark green crowns intertwined in the sky, thus creating half-light. Almost the entire ground is overgrown with the thick grass; there are only some areas where mossy stumps stick out. In the depths of the covert, a branched scrub stands, resembling an impenetrable wall.
A sunray presses through the dense branches and breaks up into many sun flares to color the trunks of trees with the faded gold. Bright spots of light lie on the sandy road, sparkling with soft tints on the roadside. A wide sandy path gets lost in the weird depths of the thicket. There are peace and calmness.
But the forest does not seem to be lifeless. A lone black woodpecker is sitting on an old pine tree just next to the path. Its loud knock disperses the midday silence reigning all around. And yet, something does not allow one to be ensorcelled with a sense of peace and serenity.
The obscure shadows gliding along the moss-covered tree trunks hide in the gloom. Scraps of weightless fog, like small ghosts, flicker among the far dark bushes. An intangible movement seems in the broken branches of pines. A whitish old stump is shown there by the road, overgrown with lichen, and can easily turn into a forest monster. The play of light and shadow draws vague figures – although hidden from us, they are ready to appear at any moment.
The world of magic northern legends opens before us, captivating us with its mysterious enchantment. We can notice the fabulous and beautiful soul of Norway living in this painting.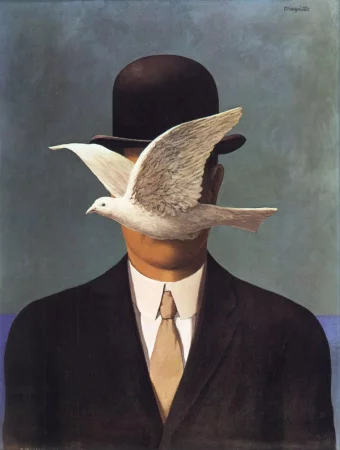 The man in the bowler hat, Rene Magritte
The man in the bowler hat - Rene Magritte. Canvas, oil. 70 x 50 cm...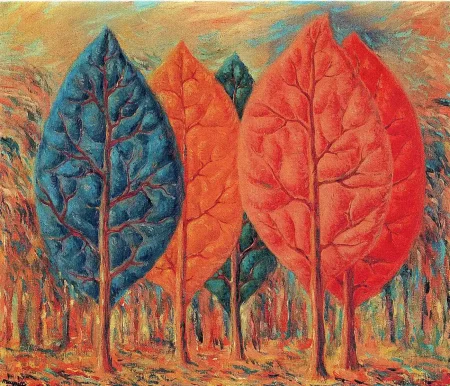 Flame, Rene Magritte
Flame - Rene Magritte. Paper, gouache. 54 x 65 cm...