Forest Distance, Ivan Shishkin - Description of the Painting
Forest Distance - Ivan Ivanovich Shishkin. Canvas, oil. 112 x 164 cm
The picture titled "Forest Distance" (1884) is full of the master's deep poetic love for the beauty of the Russian forest and also for his small homeland. Baki in 1884, when the subject painting was created, Shishkin came to Native Yelabuga and, apparently, the works written there, eventually formed the basis of this canvas.
The "Forest distance" strikes with the monumentality and perfectly detailed elaboration. Note that the composition of this painting is truly unique - Shishkin chose the absolutely highest viewpoint, with the landscape opening up before the viewers, as if from a bird's eye view. The present work is not intended for a cursory view, but rather for long contemplation and deeper reflection. In its foreground, just in the middle of a large sunlit clearing, there is a lone pine tree. The withered and leaning tree attracts the viewers' attention, making the painting objective and clear, nearly tangible. It seems that just one step will bring you in the depths of the vast forest expanses, shimming and playing with glaring sun, like sea waves. The master built a nice panorama using consistent and clear plans, through capturing the viewer's look into the distance, where in an emerald-bluish haze, among the endless Vyatka forests, a small lake is shining, with the serene high summer sky reflected in its mirror surface. Among the fading clouds, above the forest and the lake, a lone bird is shown hovering, serving as the finishing touch to emphasize the stately calmness of this landscape.
With moving away from the viewer, the landscape tends to lose its clarity, with the color scheme changing from warm and saturated greens, ocher and brown tones of a thoroughly painted foreground, to cold bluish-green shades of distant hills and a transparent sky, slightly touched by the golden glow of the rising sun. The very subtlest transitions of the tones, airiness and fullness of the work, together with the stunning play of sunlight, initiate a feeling of bewitching magic, which the viewers are lucky to witness.
The painting fascinates and soothes with its nobleness and the amplitude of Russian nature. The "Forest distance" deserves the right to be referred to as a symbol of Russia, its beauty and huge, incomprehensible power.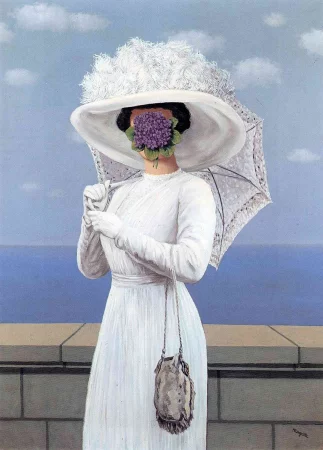 Painting The Great War, Rene Magritte - Meaning and Analysis
The Great War - Rene Magritte. Canvas, oil. 81 x 60 cm...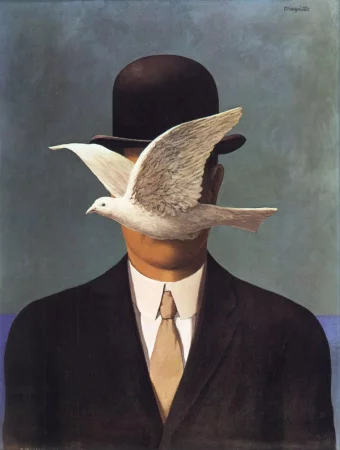 The man in the bowler hat, Rene Magritte
The man in the bowler hat - Rene Magritte. Canvas, oil. 70 x 50 cm...