Warriors of the Apocalypse, Viktor Vasnetsov
Warriors of the Apocalypse - Viktor Mikhailovich Vasnetsov. Canvas, oil. 72 x 36 cm
The art lovers and professional painters will equally appreciate the works by Viktor Mikhailovich Vasnetsov, who was a Slavic artist, as well as his unique canvas titled the "Warriors of the Apocalypse".
The offer from M. Prakhov to paint the Vladimir Cathedral in the city of Kyiv came unexpected for Vasnetsov; however, but he took it due to the financial problems. In the period from 1880 to 1890 the artist painted 2880 square meters. The fifteen compositions and thirty separately written figures show the power of epics and the Byzantine faith.
The "Warriors of the Apocalypse" is one of the many works by the artists, and it represents a new direction in religious painting. The painting reflects the approaching end of the world.
The artist most vividly depicted the "Four Horsemen of the Apocalypse", who are the topic of the sixth chapter of the Revelation of John the Theologian.
The plot of the picture
The composition of the painting is intelligent, concentrating the attention on riders, with no scattering on details; the brushstroke technique duly conveys the movements as well as the facial expressions of the warriors and their horses, while the proper selection of the color and light adds reality to the images. One can feel all the horror depicted in the painting, as it is not oversaturated with too many details and the characters are not generalized.
What do the horsemen represent?
Each of the images on the canvas is to personify evil and death, which is the death of mankind.
The first one rides a white horse - the Plague or the Conqueror, dooms people to death in terrible agony, striking all living creatures.


The second horseman is fiery, titled the War, rushing on a red horse and brandishing a sword. His figure embodies wars and strife: wherever he appears, people start killing each other.


And the one riding a black horse is the Black hunger. This third horseman has huge crazy eyes and holds a scale in his hands. He always sows hunger and madness.


The last rider is on a gray horse, he is a skeleton having a skull instead of a head and holding a scythe; it is Death, mowing down everyone, including sinners and the righteous - anyone who did not die from the Plague, War and Hunger. There are only dead animals and people remaining after his passage. His shroud waves, serving as a symbol of the triumph of the End of the World.

The history of this legendary work is linked to the name of Fyodor Chaliapin, to whom Vasnetsov gave this painting, and this fact is evidenced by the "F. I. Chaliapin. V. Vasnetsov, 1887" inscription.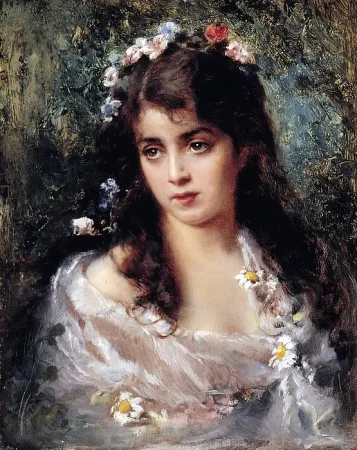 Girl dressed as Flora, Konstantin Makovsky
Girl dressed as Flora – Konstantin Egorovich Makovsky...
The Suppression of the Indian Revolt by the English, Vasily Vereshchagin
The Suppression of the Indian Revolt by the English – Vasily Vereshchagin...