Portrait of Catherine II in the Temple of the Goddess of Justice, Dmitry Levitsky
Portrait of Catherine II in the Temple of the Goddess of Justice - Dmitry G. Levitsky. Canvas, oil. 110 x 76.8 cm
The painting coming under the "Catherine II in the Temple of the Goddess of Justice" title created by D. G. Levitsky, is there to present an excellent example of a portrait written in the style of classicism. In his work, the artist managed to convey a characteristic feature of that period of time, namely the allegory.
Levitsky managed to create the image of a perfect ruler, comparing the empress with a pagan priestess, and placing her in the ancient temple of the goddess Themis. According to the Greek mythology, Themis is the goddess of justice, and the spouse of Zeus. And one can even notice some similarity in the faces of Catherine and the statue of Themis, which looks from above.
The painter himself declared that on the picture the empress is shown sacrificing her peace for the sake of justice and for her fatherland, burning poppies - a symbol of personal peace - on the altar. The emblems of St. Vladimir on her shoulder and her chest reflect the award for her work done for the benefit of the Fatherland, while the books at her feet are the evidence of the truth. In turn, the eagle resting on top of legislative documents to protect their integrity is Zeus himself. The supreme Greek God patronizes all deeds of the empress.
On the present painting, Dmitry Levitsky clearly divided the plot into several spatial plans, paying due attention to the background with a stormy sea and vessels in it, symbolizing the victory of the Russian fleet.
The compositional arrangement impresses with the mix of emancipation and freedom - as if the wind is walking around the entire canvas. The rough sea together with the billowing folds of drapery convey a whirlwind mood.
The creation of the great artist shines with color saturation, where warm tones predominate. In turn, the cold tones used to write the allegories, contrast with the warm ones, however with no distracting attention from the heroine. The author also managed to demonstrate the restraint and plasticity of sculptural forms, having depicted the body of the empress relaxed, and the movements of her hands smooth.
The complex concept of the portrait of Catherine II was worked out by the famous Russian architect and poet N. A. Lvov, an acquaintance of D. Levitsky.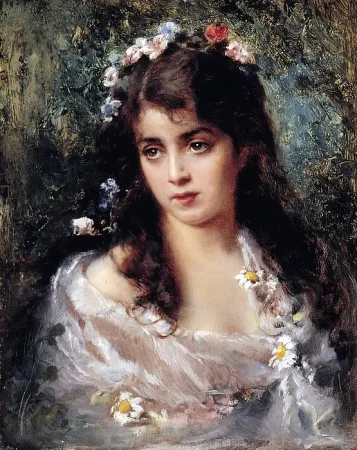 Girl dressed as Flora, Konstantin Makovsky
Girl dressed as Flora – Konstantin Egorovich Makovsky...
The Suppression of the Indian Revolt by the English, Vasily Vereshchagin
The Suppression of the Indian Revolt by the English – Vasily Vereshchagin...