Pushkin on the Black Sea, Aivazovsky
Pushkin on the Black Sea – Ivan Konstantinovich Aivazovsky
The picture by Ivan Konstantinovich Aivazovsky under the "Pushkin on the Black Sea" title is the genuine poetry of the brush. In his famous work, the great artist faithfully conveyed the nature of the "free element", meaning the sea, which the great poet loved so much.
Aivazovsky was so much impressed by his acquaintance with A. S. Pushkin during the exhibitions in St. Petersburg that, straight after the meeting, the poet became the subject of his inspiration. The genius of the brush sincerely bowed before the talent of the great Russian poet, thinking a lot about him, and he also created a series of paintings dedicated to him.
Being a very popular marine and landscape painter, Aivazovsky combined the image of Pushkin with the poetry of the sea. The composition of the painting comprises a heap of figures, with none of them being the central object. It was made in two stages:
First, the mountains were depicted on the right, with a small figure of Pushkin on them, but still the emphasis was kept on nature. The author seems to underline that there is no difference between this person and any other, while the element is above all mortals.


After that, the sky and the sea were painted, united not only with each other, but also with the poet. At first glance, one may feel the impression of haze, however these are smooth color transitions - a technique skillfully applied by the artist for depicted the evening.

The painting has virtually all the shades of the sea. The mountains are shown not rising above the poet, but rather united with him. They are lightened by a pinkish sky tint and merge with the sea. The colors of the work reflect Pushkin's rich inner world.
Aivazovsky used to assess his own capabilities adequately and understood that the image of a great poet written by him would significantly differ from a portrait one. The painter asked his colleague, the famous portrait painter
I. E. Repin
, for assistance in the creation of this work. Their joint efforts resulted in a masterpiece.
The subject picture was written specifically for Aivazovsky's personal collection, but after his death all items were sold in order to cover debts. Fortunately, at the beginning of the emergence of the Russian Federation, the canvas acquired by the owners of the Nikolaev Art Museum named after Vereshchagin.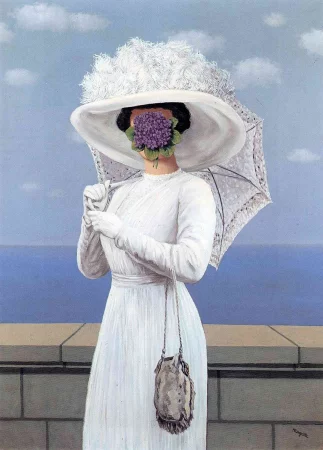 Painting The Great War, Rene Magritte - Meaning and Analysis
The Great War - Rene Magritte. Canvas, oil. 81 x 60 cm...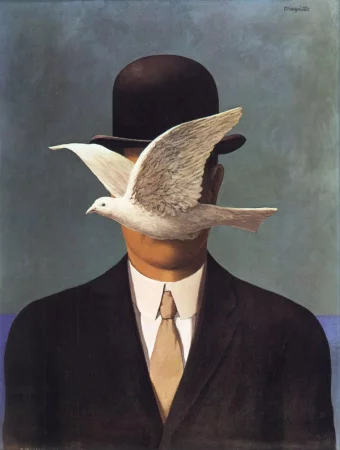 The man in the bowler hat, Rene Magritte
The man in the bowler hat - Rene Magritte. Canvas, oil. 70 x 50 cm...