The Suppression of the Indian Revolt by the English, Vasily Vereshchagin
The Suppression of the Indian Revolt by the English – Vasily Vereshchagin
Vasily Vasilyevich Vereshchagin originally intended to paint a series of works devoted to the conquest of India by the British. However, after two trips to India, he created only a few canvases, and one of them is "The suppression of the Indian Revolt by the English", which is one of three pictures showing the cruelty of the executions.
One can understand everything without long articles and wordy descriptions – it would be enough just to have a look at the picture. The Wanderer painter wrote this masterpiece, managing to maintain the documentary accuracy, with special attention to details. He detailed the attire of the English soldiers as well as the expression of pain on the faces of the rebellious sepoys.
Although the painted succeeded in combining the authenticity of the event with a detailed drawing and a finely designed plot, applying the technique of academic painting of using bright colors gave way to a truthful depiction of what did happen.
Plot
But Vereshchagin portrayed a sunny day, with the blue cloudless sky and the bright sun adding some drama to the painting. It would be absolutely terrible to get executed on such a beautiful day and in such a way.
The canvas demonstrates not the regular execution of the rebels by the colonialists, but much worse and truly striking with its cruelty – by
cannons
. The rebels, fighting for the independence of India from the British Empire, were tied to the muzzles of cannons, and shots tore their bodies to pieces.
Devil's wind
The execution referred to as the
"devil's wind"
or
"dispersion by cannons"
was terrible for the religious people, and not only in the physical sense. As per the beliefs of the Indians, they must appear before the Supreme with their bodies keeping integrity, not in a tormented form, e.g., lacking any part of the body, no head etc.
Vereshchagin got accused of slander by those who claimed that this sophisticated form of execution had been used by the British army only once. The master, who traveled all over India twice, tried to assure others that the execution of the "devil's wind" was very popular and frequently used one.
Regretfully, the actual location of the original canvas is unknown, since it disappeared leaving no trace after it had been sold at an auction in New York.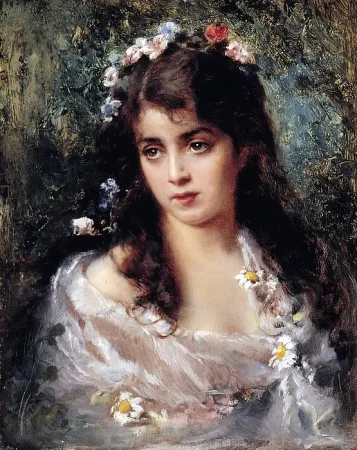 Girl dressed as Flora, Konstantin Makovsky
Girl dressed as Flora – Konstantin Egorovich Makovsky...
The Suppression of the Indian Revolt by the English, Vasily Vereshchagin
The Suppression of the Indian Revolt by the English – Vasily Vereshchagin...