Pushkin's farewell to the black sea, Ivan Konstantinovich Aivazovsky, 1877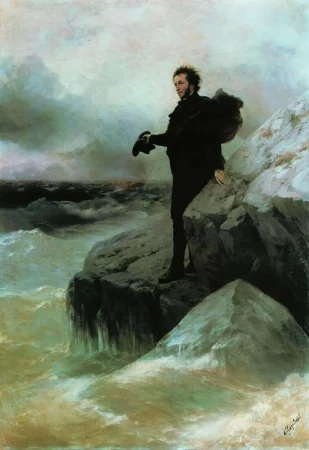 Pushkin's farewell to the sea - Ivan Konstantinovich Aivazovsky
The picture titled the "Pushkin's Farewell to the Sea" created by the great marine painter Ivan Konstantinovich Aivazovsky, harmoniously replenishes the images of the sea and the poet.
The master written this painting on canvas measuring 228,157 cm to demonstrate all the greatness and beauty of the Black Sea.
Ivan Konstantinovich depicted the great Pushkin's farewell to his favorite element and added some drama in the form of a storm. That is why it is not surprising that he got inspired to create this canvas. The poet and the artist shared their true love for the same element of nature.
However, this painting has one more author. The master admired Pushkin and his works and was personally acquainted with him. He would not even imagine his creature without the poet he loved. Aivazovsky created the perfect landscapes but was not equally good in painting portraits. That is why Repin provided his assistance with depicting Pushkin's thin tall figure, adding even more drama to the work.
Applying a minimalistic color palette, Ivan Konstantinovich conveyed the feeling of a storm and endowed the painting with an emotional load - the raging sea delights and frightens viewers at the same time. With his brushstroke technique, Aivazovsky depicted absolutely different textures featuring remarkable accuracy, including the rocks, the sky with clouds, the sea with stormy waves, and even the wind. The compositional plot of the work is also ideal: the poet's figure is placed in the center, standing out against the background of rebellious nature.
But Pushkin himself is staying calm, as if merging with the elements, fearlessly leaning on a rock, with his look sad and tender, staring far into the his beloved sea, as if saying "Farewell." The waves are trying to come closer to his feet, but the great poet remains still. One may feel that Pushkin, inspired by nature, writes new lines or he reads his poems to the sea.
Looking at this canvas, one understands that Alexander Sergeevich, regretfully, will never return, though the gusty wind and seething water dangle him to stay.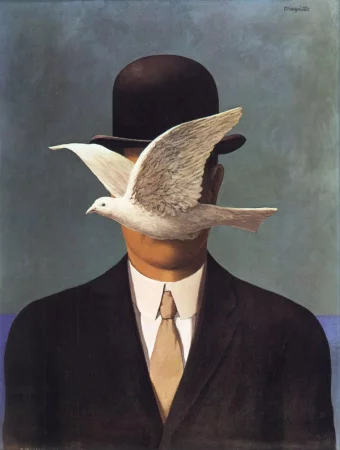 The man in the bowler hat, Rene Magritte
The man in the bowler hat - Rene Magritte. Canvas, oil. 70 x 50 cm...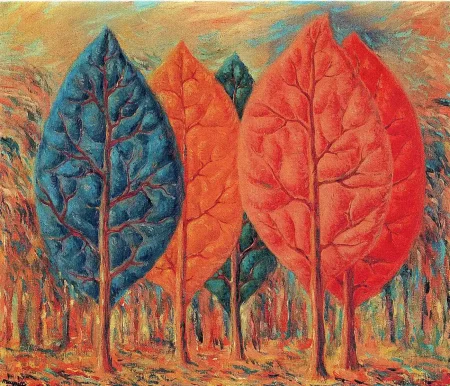 Flame, Rene Magritte
Flame - Rene Magritte. Paper, gouache. 54 x 65 cm...