Victor Vasnetsov, Knight at the Crossroads Painting Description
Knight at the Crossroads - Victor Vasnetsov. 1882. Canvas, oil. 167 x 299 cm
Viktor Mikhailovich Vasnetsov, with a series of works devoted to the subjects of Russian fairy tales and epics, turned out to be an innovator in this area of the visual arts. He gained a reputation as a "storyteller", being imbued with the spirit of Russian antiquity and epic times so much that he designed his Moscow house in the form of a wooden hut (nowadays, there is a memorial museum of the painter).
The painting "Knight at the Crossroads" is partly a reflection of Vasnetsov's fate. As a recognized Itinerant artist, he, like his comrades, did perform genre compositions in the spirit of acute social themes that used to worry the society in the 1870-1890s. But the fairy-tale theme taking possession of him dictated a different way of the development of his creativity. The painter escaped the problems of modernity and plunged into the world of Russian antiquity, at the risk of being condemned.
The choice of the path considered one of the fatal questions in the human life acquired an epic sound on the master's large-format canvas. Standing in front of the fortune-telling stone, the saddened knight bent under the weight of the fatal prophecy. An eerie raven and a setting red sun heighten the atmosphere. The artist intentionally refused to depict the road (which could be a way out of difficulty) to show the inevitability of fate.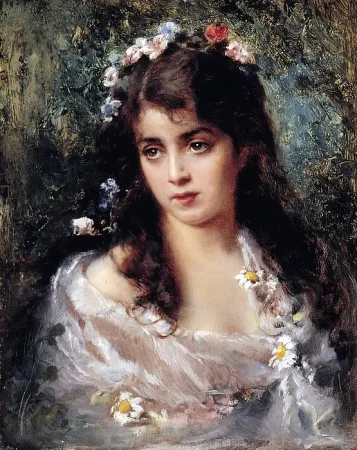 Girl dressed as Flora, Konstantin Makovsky
Girl dressed as Flora – Konstantin Egorovich Makovsky...
The Suppression of the Indian Revolt by the English, Vasily Vereshchagin
The Suppression of the Indian Revolt by the English – Vasily Vereshchagin...