Mikhail Vrubel "Lilacs" - Description of the Painting
Lilac - Mikhail Vrubel. 1900. Oil on canvas. 160 x 177 cm
This picture has a special place among the works of the great master of Art Nouveau. A constant search for new forms, a burning desire to turn every work into a tangible miracle, full of deep meaning. The flowering lilac bush, observed by the master in the Chernigov province, impressed him so much that the artist immediately began to work.
A miracle seen by the viewer - like a nymph, chased by a pan, a girl hid behind a flowering lilac bush. A rough and fuzzy image is catching the viewer's mind. The artist does not give a clear image; for him, the riot of lilac colors surrounding his heroine is more important.
The painting was praised by Tsar Nikolai Alexandrovich, who was distinguished by his conservative taste at the exhibition. Praise turned the work into a modern masterpiece, criticism was choking with delight, but the content of the work itself remained a mystery for a long time. In this work, the researchers tend to see the embodiment of the complex philosophical views of the artist and his aesthetic program.
Lilac is a favorite flower of Art Nouveau artists. They got fascinated by the color itself as well as the mystical and bewitching variety of shades of purple.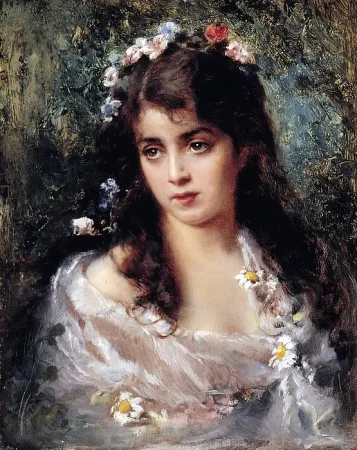 Girl dressed as Flora, Konstantin Makovsky
Girl dressed as Flora – Konstantin Egorovich Makovsky...
The Suppression of the Indian Revolt by the English, Vasily Vereshchagin
The Suppression of the Indian Revolt by the English – Vasily Vereshchagin...