"The sea shore at night. At the lighthouse", Aivazovsky - Description of the Painting
The sea shore at night. At the lighthouse - Aivazovsky. 1837. Oil on canvas. 58 x 81 cm
"The seashore at night. At the lighthouse" titled painting was written by Aivazovsky in 1837, in the early period of time when the artist was studying at the Saint Petersburg Academy of Arts.
The canvas shows an impending storm: in the background of it one can observe thickening clouds that creep onto the lunar disk, are getting denser, thicker, and darker. The very last glimpses of light reveal the outlines of the lighthouse and vessels, with their details not visible in the darkness. Their gloomy silhouettes stand out against the illuminated sea element background.
However, the clouds are about to absorb the bright moonlight completely, and the tension is growing, while the darkness is getting denser. Under the wind gusts, the waves grow larger, even more frightening, and destructive to human beings.
A tiny boat hurries to moor to the shore with a crew of sailors on board, clearly unwilling to get caught by a storm at sea.
A small figure of a human standing on a stone with his arms stretched towards the sea symbolizes the futility of being, attempting to appeal to the mighty sea element.
The plot of the painting would be more suitable not for romanticism, to which Aivazovsky later came, but rather for phantasmagoria: a rush of thought, a fantasy played out, distant from realism.
The clouds above the sea remind a funnel, an opening black hole, which is about to spin little more, throwing up and scattering all the characters.
At that time, the young artist was still under the influence of his teachers and his own style did not develop yet, which is clearly seen on the painting. The image of the sea is not that detailed when compared to his subsequent works, and one cannot feel the transparency of water and airiness, naturalness of clouds. Nevertheless, we can clearly see the composition, together with the ability to raise deeply emotional paintings on canvas by application of the color, light and shadow, as well as the future professional hand of an unsurpassed master.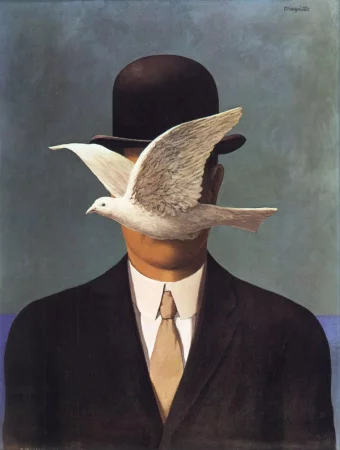 The man in the bowler hat, Rene Magritte
The man in the bowler hat - Rene Magritte. Canvas, oil. 70 x 50 cm...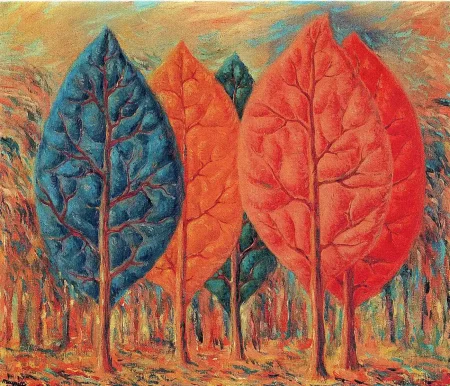 Flame, Rene Magritte
Flame - Rene Magritte. Paper, gouache. 54 x 65 cm...