Gurzuf, 1859, Ivan Aivazovsky - Description of the Painting
Gurzuf - Ivan Konstantinovich Aivazovsky. 1859. Oil on canvas. 64.5 x 95.5 cm
The painting titled "Gurzuf" was written by Ivan Konstantinovich Aivazovsky in 1859.
Exquisite and elegant, the picture attracts attention primarily with the azure-pastel tones applied when depicting the sea and sky, and at the same time with the deep violet shadows where the master's brush wrote the shoreline.
In the foreground of the picture and at its bottom, one can observe the purity and transparency of the water owing to the image of pitfalls visible through the surface of the sea. The incredibly beautiful blueness of the water gradually fades afield, as if it merges with the sky in a soft lemon tint of the clouds with their reflections.
The ridge of mountains frames the bay from the horizon to the foreground, becoming more colorful and expressive as it approaches the viewer. A busy traffic of vessels takes place in the bay: there is a group of passengers gathered on the coast, waiting for the boarding. One of the boats is delivering the seamen to a moored ship. It seems that one can hear the chirm of voices and the fussy life of the port.
Even close to the ship, which is by the shore, there are lots of busy people. Life is seething. Looking to the left, you can see many houses at the foot of a small cliff, and they are placed denser as you approach the coastline. And in the distance, one of the vessels has already expanded the sails, sailing away full speed, virtually hiding from the viewer in a light mist.
There is a flight of birds soaring high in the sky, adding liveliness to the picture, and making you recall the cries of seagulls, so well-known to everyone.
The picture blows the warmth and freshness of the sea breeze. One can feel the bustle of the busy port and, in the meantime, the exalted romantic atmosphere which is typical for the pictures of the great marine painter. It looks like it invites everyone to visit Gurzuf, demonstrating its unique beauty, in order to enjoy the experiences as the artist, personally.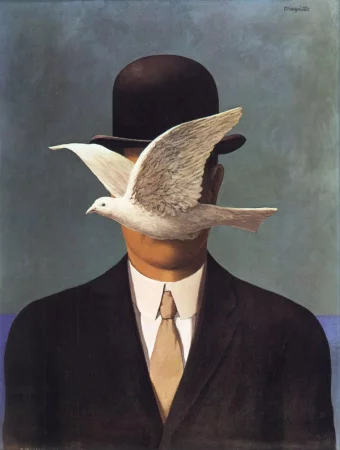 The man in the bowler hat, Rene Magritte
The man in the bowler hat - Rene Magritte. Canvas, oil. 70 x 50 cm...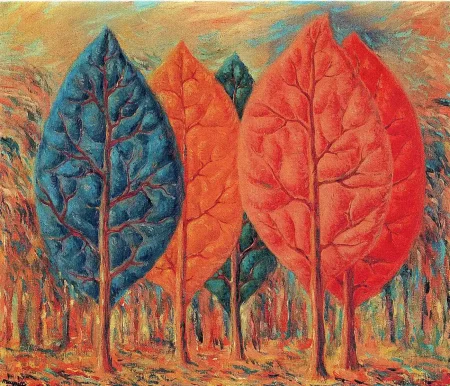 Flame, Rene Magritte
Flame - Rene Magritte. Paper, gouache. 54 x 65 cm...