Golconda, Rene Magritte - Meaning and Analysis, 1953, Interpretation of the Painting
Golconda - Rene Magritte. Canvas, oil. 100 x 81 cm
Back in the past, Golconda was a name of the fortress in the center of India, a place where diamonds were mainly traded. Nowadays, only ruins remained from it, and today "Golconda" is just the name of one of the pictures by Rene Magritte.
It should be noted that many of the surrealists could not link the plot of their works with the associated titles. But, if we give more time and attention to details, it would be quite possible to make an attempt to solve another rebus of the Belgian artist.
It is a sunny day in one of the thousands of typical cities. Men wearing the boring gray coats and matching bowlers hovered in the air like raindrops. Together, they form a sort of a "herd", resembling our society – impersonal and lacking the individuality. Rene Magritte used to say: "The man in the bowler hat is Mr. Mediocrity, with all his anonymity."
The painting "Golconda" reflects a person within society. Although most of the people make only a mass mortifying the individual, each of us has its own individuality. Looking closely at the men on the canvas, one gets the confident impression that there is not a single gentleman alike.
One could guess why the painting has such a title. The men on it are arranged in a way resembling a diagram of the crystal structure of a diamond. But what does this fact have to do with the title? If, at first, it may seem that society is a chaotic cluster of people, then, when going a bit deeper, we can understand that this is a certain rigid hierarchy where each person has his own place, and is assigned a particular role, and everyone lives co-dependently with each other.
Note, however, that these are just guesses. Despite the fact that Magritte himself never explained his works, he used to commented on Golconda as a picture showing the monotony of the crowd and the loneliness of a human who can become himself only when being in complete harmony and solitude.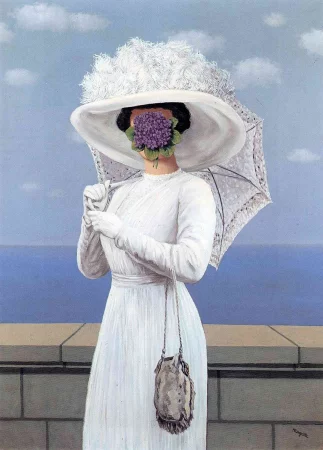 Painting The Great War, Rene Magritte - Meaning and Analysis
The Great War - Rene Magritte. Canvas, oil. 81 x 60 cm...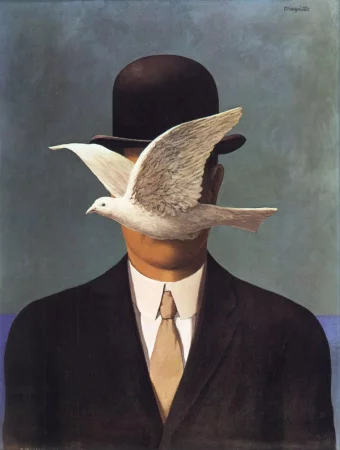 The man in the bowler hat, Rene Magritte
The man in the bowler hat - Rene Magritte. Canvas, oil. 70 x 50 cm...