Wings of the Morning, Edward Robert Hughes - Description of the Painting
Wings of the Morning - Edward Robert Hughes. 69.9 x 104.2 cm
The picture reflects the idea of the Pre-Raphaelite Brotherhood concerning the sincerity of feelings and qualitative imagination in art.
The center of the plot depicts a naked girl soaring on wings, striving towards the dawn. The mountain range shown below is still shadowed, but some of the peaks have already been painted with the rose color of morning. The sky begins to blaze with the vivid colors of the sun that rises above the horizon.
The canvas is filled with fiery brilliance. The artist applied the watercolor combined with the gum-arabic in order to add shine, as well as the shades of gold.
The female image on the painting resembles the ancient goddess Zara, opening the gate for the radiant God of Sun and taking off on the pink wings to shower the earth with golden dew. The artists did not use to depict the apparent literary texts, attempting to set the desired theme and mood only indirectly.
The plot is dynamic, but it keeps the atmosphere of morning bliss in it. Together with the naked maiden, there are strings of birds rushing to the emerging light. Sometimes this painting is simply referred to as "Wings", due to having the outlines of cirrus clouds, bird wings and two divine wings of a maiden merged into a single whole. The winged nocturnal creatures – bats and owls – are heading in the other direction, towards the disappearing darkness, winged nocturnal creatures.
The given half-shade between visible clarity and blurry darkness immerses one in the mysterious moment of the night changing to day. For Edward Hughes, studying the twilight was very important. He called it "time to see things" in soft tones and cryptic images.
In 1905, the picture was exhibited at a show at the Royal Society of Arts in London. The critics expressed their admiration for the coloring of the work and flawlessly modeled female figure.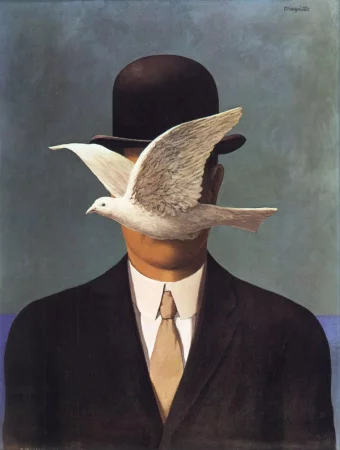 The man in the bowler hat, Rene Magritte
The man in the bowler hat - Rene Magritte. Canvas, oil. 70 x 50 cm...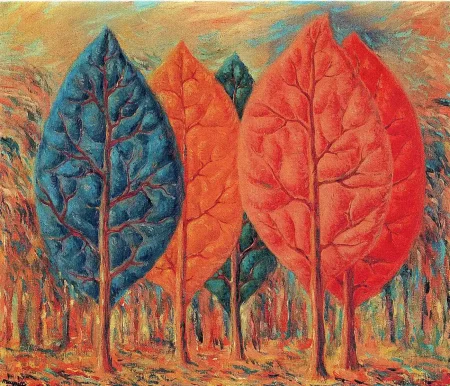 Flame, Rene Magritte
Flame - Rene Magritte. Paper, gouache. 54 x 65 cm...