Painting "Midsummer Eve", Edward Robert Hughes - Analysis
Midsummer Eve - Edward Robert Hughes
The E. R. Hughes' "Midsummer's Eve" is filled with the artistic ideals of the late Pre-Raphaelite Brotherhood and British Romantic painters. The feast of the summer solstice is still celebrated by numerous nations. They believe that miracles happen on this night, with the nature coming to life, and people being able to see all sorts of wonders.
The main role in the arrangement is taken by a young woman, maybe a forest nymph, surrounded by a ring of winged creatures looking like children. She has lifted her golden dress and is holding a flute as if willing to sing the song of summer. The green grass serves as a stage for the fairy, while the curtain is the dense foliage of the trees. A miniature auditory lights it with luminous flowers and stems, using them as spotlights.
The face and the entire posture of the golden-haired beauty are pretty natural. The scenery resembles a fairy tale world. Hughes fills the space with rich color applying the watercolor strokes, and using the dense gouache to create the shape. This is how the earthly nature gets mixed with a magical game.
There is something mythical in the female image. As if it is the goddess Flora herself, peppered with lovely flowers, from whose mouth the breath of roses comes, bestowing spring and field fruits to the world.
The scene refers to Shakespeare's "A Midsummer Night's Dream" comedy. One can hear the conversation of the elves: "And I serve the Fairy Queen; to dew her orbs upon the green..." Maybe it's the fairy Titania instructing her little helpers?
E. R. Hughes did not attempt to create a meaningful story in his work. Conversely, he tried to set the mood, allowing one to have a glance into another world, where there is no mundane fuss and worries. Created using a complex technique, in line with the accurate observations of nature, the painting carries the viewer into the atmosphere of magic and harmony.
The painting was first exhibited at the Royal Society of Painters in Watercolor which took place in 1908. The public received the picture warmly, and it is considered one of the best works by Hughes up to today.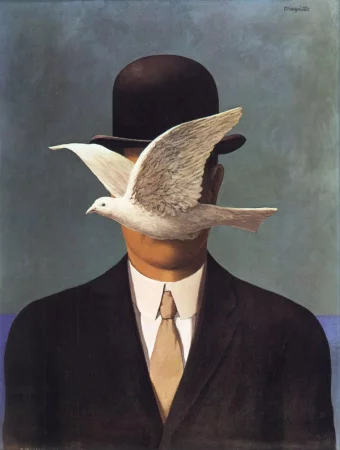 The man in the bowler hat, Rene Magritte
The man in the bowler hat - Rene Magritte. Canvas, oil. 70 x 50 cm...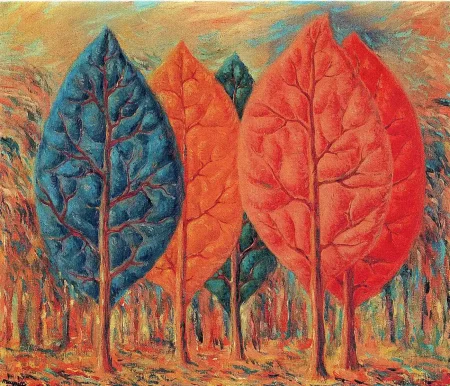 Flame, Rene Magritte
Flame - Rene Magritte. Paper, gouache. 54 x 65 cm...