Circe, John William Waterhouse - Description of the Painting
Circe - John William Waterhouse. Canvas, oil. 180.7 x 87.4 cm
This beautiful painting was created by the artist John Waterhouse! His work is absolutely incredible! The canvas titled "Circe" is painted in the style of romanticism. The plot of the painting masterly combines a genre scene with mythological painting.
The gifted master of the brush was fond of the ancient Greek mythology, in which he mainly liked the beautiful and strong female images. Each and every interesting story used to make a special creative mood.
The goddess of magic, Circe, is shown in the center of the composition. She used to be a seductive and treacherous sorceress, knowing how to prepare various potions and how to conjure. Circe lived on the Eze island, where Odysseus landed at the time of his travels. The woman holds a transparent bowl in her hands, from which a witch's potion is being poured. She plans to get Odysseus' companions drunk with it, in order to turn them into wild pigs. Her gaze is austere and formidable. She is apparently disgruntled with the arrival of unexpected guests on her island.
And here is another version of the picture. Using the drug, Circe wants to poison the water in which Scylla bathes - out of jealousy, since her rival was captivated by Glaucus, with whom she herself was in love. As a result, Scylla turned into a sea monster. "Kirka" is another Latin name for Circe.
The picture is transmitted in different colors using chiaroscuro and contrasts. The dark green and blue colors dominate on it. The woman is wearing a long dark blue overall with a round ornament. The upper part of her body is naked. She gazes into a bowl of water, pronouncing her magic spells. Standing barefoot on a sea monster and slightly tilting the bowl, Circe pours the potion into the sea. The splashes are scattered everywhere. The rocks and trees are shown behind her, with the rocks symbolizing the dead Sirens, who turned into them from Odysseus's resistance to their charms.
The canvas creates a mystery hidden in the bosom of the plot. Now Circe awaiting Odysseus to seduce him with her beautiful and cold charm.
The artwork gives unusual impressions, carrying one to the world of myths, legends, and fantasy. It would perfectly fit in the ambiance of any living room or office.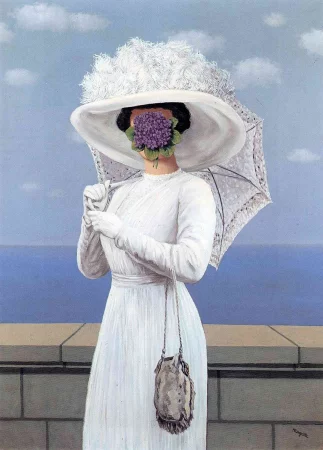 Painting The Great War, Rene Magritte - Meaning and Analysis
The Great War - Rene Magritte. Canvas, oil. 81 x 60 cm...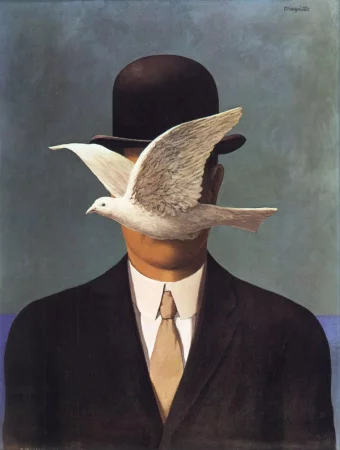 The man in the bowler hat, Rene Magritte
The man in the bowler hat - Rene Magritte. Canvas, oil. 70 x 50 cm...