Portrait of the son Arseny, Vasily Tropinin - Description of the Painting
Portrait of the son Arseny - Vasily Andreevich Tropinin. Canvas, oil. 32.8 x 41 cm
It was Vasily Andreevich Tropinin's passion to create portraits of children, as they were all so innocent, sweet, and bright, seeming to radiate warmth. After the birth of his son, it was clear that the canvas with a little boy was coming, and it followed in 1818, when his son Arseny was some ten years old. Tropinin painted a wonderful portrait under the "Portrait of the son Arseny" title.
This painting shows the style and manner, specific to the master in everything. Again, he seemed to have captured a randomly caught moment in the life of a sweet little boy. Arseny is depicted sitting relaxed, with his eyes looking a little to the side, as if he is distracted from some interesting occupation. The boy is relaxed and focused at the same time. Clearly, he was comfortable being at that very moment.
All the tones applied by the artist are muted and pleasing to the eye. Brown tones of the clothing, hair and background immerse you in a relaxed state. However, the boy's face is bright, as if it is illuminated by an inner light. The small sun glare plays on the kid's face.
The painting shows Arseniy dressed in simple attire, corresponding to the status of a peasant. But there is no that usual seriousness or sadness on his face, although this is exactly how the unfree people of those times were traditionally portrayed. On the contrary, Tropinin's son looks happy and calm.
The subject portrait, exhibited at the Tretyakov Gallery, is still considered by the experts to be one of the best children's portraits.
Vasily Andreevich managed to masterfully convey all the love for his son by means of only a brush, paint, and canvas. He is deservedly treated as one of the most talented portrait painters; in his works, the unique face of the model comes to the fore, often shown with some hints of romanticism.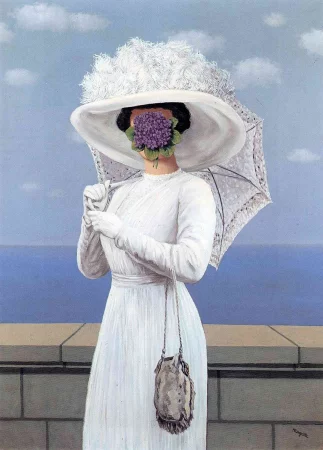 Painting The Great War, Rene Magritte - Meaning and Analysis
The Great War - Rene Magritte. Canvas, oil. 81 x 60 cm...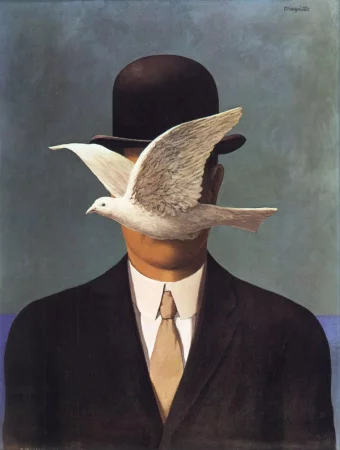 The man in the bowler hat, Rene Magritte
The man in the bowler hat - Rene Magritte. Canvas, oil. 70 x 50 cm...