The Lacemaker, Tropinin - Description of the Painting
The Lacemaker - Vasily Andreevich Tropinin. Canvas, oil. 74.7 x 59.3 cm
The work of the famous Russian artist Vasily Andreevich Tropinin titled "The Lacemaker" was, indeed, a true breakthrough in painting, marking a new trend - a genre portrait.
Tropinin was particularly very fond of painting people, depicting their unusual facial features, appearing when they were passionate about something of their own and seemed to not notice the intent and studying gaze of the painter. He used to show them happy and calm, which is typical for the "romanticism" style.
On "The Lacemaker" canvas one can observe a nice young girl weaving something out of lace. There are all sorts of different tools for this difficult task shown lying on the needlewoman's table. The painting is written in warm and soft tones, with the face of the heroine seeming to glow from within. All of these show the girl as being a sweet, graceful, and noble creature.
The lacemaker is dressed discreetly, with her outfits usual for that time, making her closer to the people. However, some shadow of stately nobility still slips through in her movements and look.
The pose, the turn of her head, and the gaze together with the gentle light smile are all purely natural. It is quite clear that the young beauty did not pose for the picture. The master seemed to have photographed a quick passage of her life, just the moment when she glanced at the man fleetingly, and then created a brilliant portrait based on this photo.
This picture is also interesting as it became one of only three works considered by the artist good enough to be presented to the Council of the Imperial Academy of Arts, to which he applied for a formal appointment as a painter.
Critics appreciated this approach to the image of the portrait indeed. It was surprising to them that instead of the traditionally used image of a stately and rich woman wearing expensive attire and having a luxury hairstyle, Tropinin chose to portray a peasant girl, and in the way how she seemed to most.
It goes without saying that the master paid due attention to every single detail on the painting. One can notice the love and awe with which he depicted even the ordinary scissors on the craftswoman's table.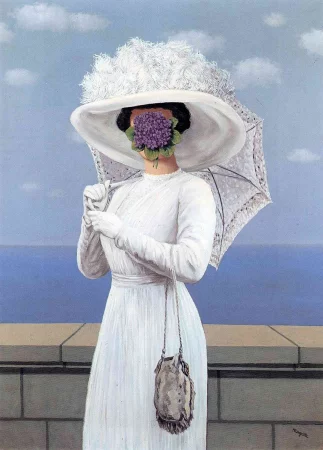 Painting The Great War, Rene Magritte - Meaning and Analysis
The Great War - Rene Magritte. Canvas, oil. 81 x 60 cm...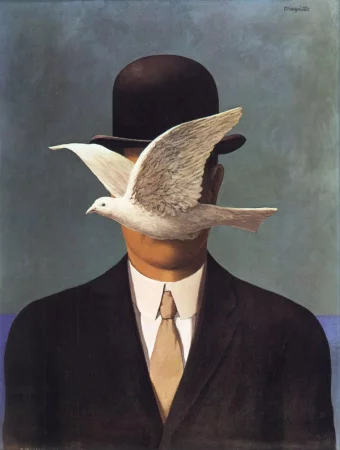 The man in the bowler hat, Rene Magritte
The man in the bowler hat - Rene Magritte. Canvas, oil. 70 x 50 cm...