Peter I interrogates Tsarevich Alexei Petrovich in Peterhof, Nikolai Ge
Peter I interrogates Tsarevich Alexei Petrovich in Peterhof - Nikolai Nikolaevich Ge. Canvas, oil. 135.7 x 173 cm
The picture by Nikolai Nikolaevich Ge titled "Peter I interrogates Tsarevich Alexei Petrovich in Peterhof" tells the story of the torment to which the son got subjected to by his own father.
Back in the 1860s, there was she style of everyday drama in depicting Russian historical plots dominating in the domestic art. N. N. Ge did not follow this rule in his paintings. He rather tended to portray the historical conflict, trying to depict the purely psychological elements, as well as the characters and mood of his characters. As a result, this work created a brand-new direction, as it did not contain spectacular extras and any exaggerated gestures.
According to the explanation by the author himself, the ten years that he spent in Italy, seriously affected his vision of Russia, making him find traces of Peter's reforms everywhere and in everything. He found great interest in the history of Peter, and this, in turn, prompted him to create this painting.
The great experience of Nikolai Ge as a portrait painter, found its reflection here - he managed to create convincing psychological images. When looking at the canvas, one can feel the strong pressure of Peter's stern look of Peter I, which is directed at his son.
The point and meaning of the picture
The prince's exhaustion and fear of his father are brilliantly conveyed through the elongated and pale face, and a look pointed to the floor. However, the observers can also feel the impression of his disobedience, hopelessness, non-admission of the claimed guilt, owing to the finely shown brow crease.
The painter skillfully used the technique of light, particularly the contrast of chiaroscuro distinguishing the prince's figure, bathed in pale light, from the bright image of his father. Ge also applied a truly outstanding compositional solution: as you can see, Alexei is standing, while Peter is sitting, but the emperor, being the dominant character of the plot, makes his son bend over.
Ge used to strictly follow all requirements for the authenticity of a historical work prior to commencement of the painting process: he thoroughly studied the portraits of both emperor and prince, as well as the interiors and clothing typical to the 18th century; he read many of the historical sources. However, the famous painter got disappointed in this style of painting, due to the fact that the historical figures did not actually correspond to his ideals.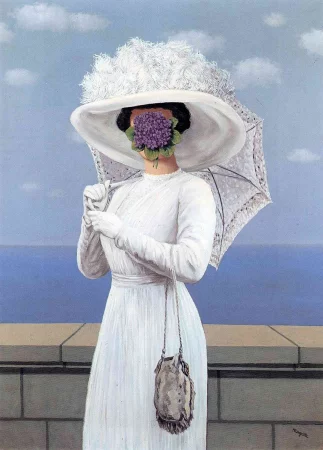 Painting The Great War, Rene Magritte - Meaning and Analysis
The Great War - Rene Magritte. Canvas, oil. 81 x 60 cm...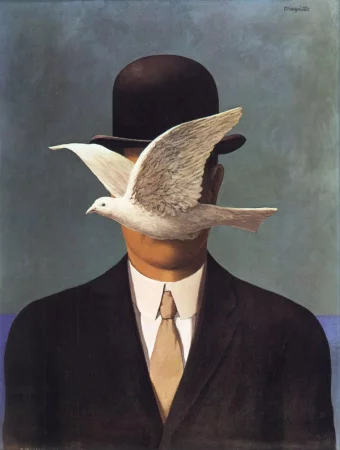 The man in the bowler hat, Rene Magritte
The man in the bowler hat - Rene Magritte. Canvas, oil. 70 x 50 cm...