Walkers to V. I. Lenin, Vladimir Serov
Walkers to V. I. Lenin – Vladimir Alexandrovich Serov. Canvas, oil. 61 x 58.5 cm
The painting titled the "Walkers to Lenin", was created by one of the most famous representatives of socialist realism, according to the opinions of the art historians, Vladimir Serov, back in 1950. There were many works by the Soviet artist devoted to the Soviet leader, but the present one is well known to all Soviet schoolchildren.
Serov succeeded in conveying realism with finely detailed writing of faces, hands, and clothes. Everything is presented in an unadorned light: wrinkled and rough skin, gray strands of hair and beards of men; even the posture and facial expression of the Soviet leader speak of the reality of the event.
On this small picture, the painter put Lenin with three peasants in sheepskin coats around a table. One of the men stands leaning on the back of his chair, while two others confidentially look at the leader, one of them is speaking, supplementing his speech with gestures. Vladimir Ilyich listens attentively, taking notes. A relaxed and simple atmosphere conducts trust and tranquility, resulting in the same viewers feeling same.
Applying his own technique of depicting figures and a clear brushstroke, the painter was able to demonstrate the closeness of the leader to the common people. In turn, the facial expressions, and gestures in the course of the conversation are shown so accurately that, when looking at the canvas, one seems to hear the conversation of its characters.
However, the walkers are not just fictional. The old man with a thick gray beard is Ivan Afanasyevich Chekunov, who became famous in his village of Fominki after this meeting and the associated painting, and also because of his three meetings with Lenin, last one done on February 23, 1921, for discussing the meat tax issues.
It is surprising that the figure of Lenin was very popular in the work of Vladimir Alexandrovich. He created the first portrait of Lenin at the age of five. After that, the portraits of the leader went in an endless stream; however, for this particular canvas Serov got awarded an honorary State Prize.
Interesting fact
When looking at the "Meeting at the Rabbi's" picture by the American artist Tully Filmus, it is quite unlikely that anyone would doubt that one work is copied from another. The issue is that the American artist did mark his painting with the date. Some of the art historians do believe that his work was created before Serov's "Walkers to Lenin" in 1945, while the others tend to believe that his work followed in 1962.
"Meeting at the Rabbi's" by Tully Filmus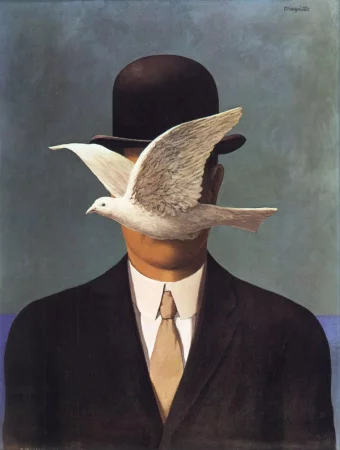 The man in the bowler hat, Rene Magritte
The man in the bowler hat - Rene Magritte. Canvas, oil. 70 x 50 cm...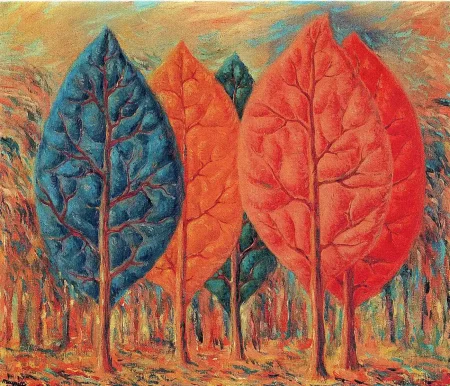 Flame, Rene Magritte
Flame - Rene Magritte. Paper, gouache. 54 x 65 cm...